Feb 20 2015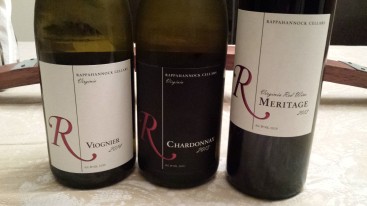 It's a new year (ok, it's February), and this month we had our first Virginia Wine Chat of 2015. Frank Morgan of Drink What YOU Like was at Rapphannock Cellars with owner John Delmar and winemaker Theo Smith to try some of their wines, pick their brains on both their vineyard and the larger Virginia wind industry, and to continue his efforts to expose the entirety of the world to Virginia wine. Keep up the good work Frank.
As usual, you can find the video of the Chat embedded below, but first, a few notes about Rappahannock Cellars and then we'll ge to my thoughts on the wines.
I've never had the chance to actually visit Rappahannock Cellars, but I have tried some of their wines at different wine expos and industry events. Rappahannock was begun in 1998 and opened to the public in 2001. They make about 10,000 cases per year, and have 26 different wines they make, 8 of which are typically found in their tasting room and are what they consider their "work horse" wines.
You can find Rapphannock Cellars in Huntley, Virginia, which is located just about an hour outside of Washington DC, and based on the wines I got to try last Thursday, I highly recommend a visit. Now, about those wines….
2014 Rappahannock Cellars Viognier – $34 Continue Reading Ľ