Jul 09 2014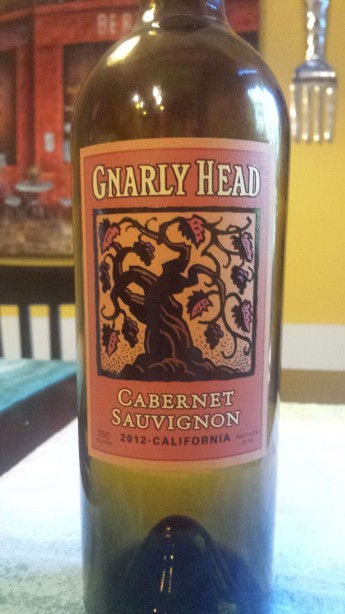 Varietal:  Cabernet Sauvignon
Region:  California – USA
Cost:  ~$14 (SRP)
Winemaker's Notes:  Gnarly Head 2012 Cabrenet Sauvignon is King – big, gallang, and powerful. This dark, bold Cabernet has solid tannins and jammy fruit, with aromas of black cherry, blackberry, freshly-cracked black peppercorn, violet, and charred notes. On the palate, flavors of dense black fruit compote and currant followed by a trio of clove, spice, and earth, lead to a generous, lingering finish. Try pairing this Cabernet with grilled lamb skewers, strong cheeses, or a spaghetti bolognese.
My Review:  When I think of Gnarly Head, like most people I'm sure, I think of Zinfandel. I know in my mind that they make other things, but before this, had I been at the store and decided I wanted some affordable Zinfandel, Gnarly Head would have been near the top of my list.
Cabernet may have joined it.
I was really impressed by this wine. It went well with our dinner, it was enjoyable by itself, and it managed to avoid all the pit-falls that I usually associate with budget California Cabernet.