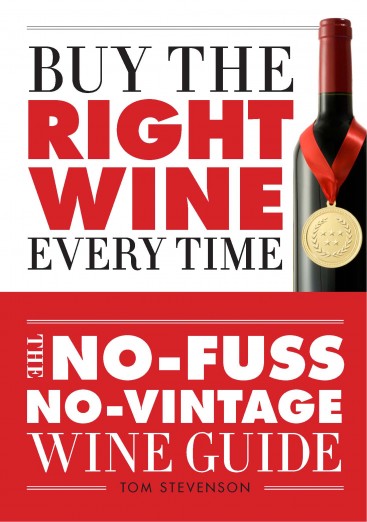 When talking to people for the first time, and the subject of this website comes up, a lot of people will ask for advice on which wines they should buy. Part of it is they believe I'm a good source of information on wines that they might not normally try. The other all too common reason is that they get overwhelmed when walking into a wine shop.
Here's a bit of a secret – I get overwhelmed sometimes too.
Let's be honest, whether walking into your locally owned wine shop or a Total Wine, the options on potential wines can be a bit overwhelming. There are apps that can help you narrow down the field, but they aren't always up to date, and many of them focus on vintage.
Enter the new book from Tom Stevenson – "Buy The Right Wine Every Time: The No-Fuss No-Vintage Wine Guide".
So, before going too far down this rabbit hole I have a confession to make. When first combing through the book I found in myself some disappointment. Where were the Virginia wines? We've been making wines for several years, and in particular the last few years have been noteworthy, not just locally, but across the country and around the world. But then I remembered something.
In Virginia, vintage matters. The hook of this book, and something I've grown to appreciate about it, is that it takes vintage out of the equation.
That's not to say we should ignore vintage, or stop trying new ones, but let's be honest, there are times when we all want a wine that we can rely on regardless of whether it was made in 2001 or 2011.
Tom Stevenson has done an excellent job of creating a repository of wines, with notes regarding taste, rough price, and how strongly he recommends them. This makes it very easy to find wines that are strongly recommended, but low price, getting you those value wines we all really want.
Another feature of the wine recommendations that I found I liked was the part where he recommends you "try something completely different". Looking at a Cabernet Sauvignon from Chateau Ste Michelle? Check out Bordeaux wines such as Margaux, chateaux Lascombes, and Palmer. The recommendations are relevant to the wine being looked at, but might not be something that the average consumer, who this book is definitely geared towards, would think to try.
Finally, in the back of the book are what Mr. Stevenson dubs the "20 most useful wine tips". These tips range from how to search for a specific wine to how to store and chill wine correctly. Not every tip will be useful to every person, but I think some of them help to dispel some of the mystique around wine that stops some from getting into it.
While not pocket sized, the wine is certainly easy enough to throw into the bags that so many of us carry around these days. I'd honestly love to see some sort of app tied to this that allowed you to parse some of the information onto your smartphone, which would, I think, make the book even more valuable.
Still, for around $10 (available at both Amazon and Barnes & Noble, as well as your local book store), it's a great buy and one that anybody that's ever been overwhelmed at the prospect of buying wine should consider.