I just realized that I haven't posted any of the photos I took from the Virginia Wine Expo. Â Here are just a couple.
 
 
 I'm a big fan of this vineyard if for no other reason than because my brother-in-law got married here.  Anybody looking to get married at a Virginia vineyard should really consider them.
 
 You may take your life in your hand to get to the tasting room, but Stone Mountain offers one of the best places to enjoy a bottle of wine with their deck overlooking the Shenandoah mountains.
 
Amazing Cabernet Franc and Petit Verdot are reasons enough to visit this vineyard.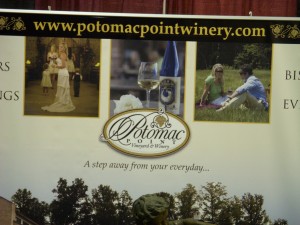 Potomac Point is quickly becoming one of my favorite places to visit.  With their amazing patio, great wines, and welcoming nature, whether you enjoy their wine or not (and I think you will), you'll enjoy spending an afternoon at their tasting room. 
 
I'd never heard of Tarara before the Virginia Wine Expo, but they've quickly made their way onto my list of places to visit in the coming year. 
 
These guys just clearly enjoy making wine. Â With wines like Franc the Tank and Snake's Den, there's nothing pretentious or snooty about their wine, but it's great quality wine that you're sure to enjoy time and again.