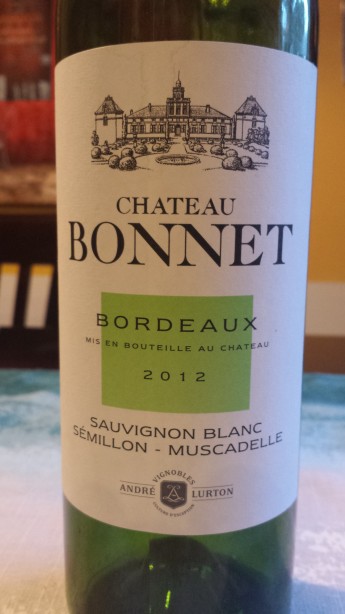 Varietal:  50% Sauvignon Blanc; 40% Semillon; 10% Muscadelle
Region:  Bordeaux, France
Cost:  $16.50 (SRP)
My Review:  My experience with French wines has been, mostly, focused on red wine. It's not that I don't enjoy white wine, simply that when trying to expand my tastes and experience in the realm of French wine that I've gravitated towards the reds, with the few whites I've had being mostly Chardonnay. Fortunately, with the 2012 Chateau Bonnet Blanc, I was able to break that trend.
On both the nose and in the mouth, even had I not known what was in the bottle, I would have assumed there was Sauvignon Blanc, thanks to the nice notes of citrus and white flowers that dominated the wine. Thanks to the Semillon and Muscadelle those notes didn't become overwhelming, with there being little to no acid on the wine even with those citrus notes.
As somebody that drinks a lot of South American Sauvignon Blanc, this was a nice change of pace. While the Sauvignon from south of the border can be very bold and in your face, this exhibited a grace and subtlety that was appreciated – all of the notes I was expecting were there, but instead of the brashness of youth they displayed the grace of age, while still getting the same point across.
If you're looking for something different than your typical Sauvignon Blanc, but with many of the same flavors, the 2012 Chateau Bonnet Blanc is a good option at a good price. I definitely enjoyed this wine and would consider it again if I came across it at my local store.
Editor's Note: I received this wine as a free sample for review.