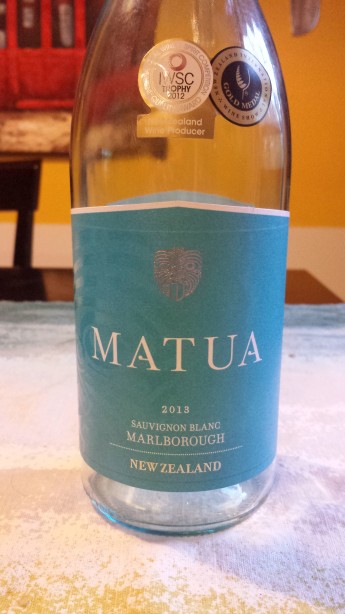 Varietal:Â  100% Sauvignon Blanc
Region:Â  Marlborough, New Zealand
Cost:Â  ~$13
Winemaker's Notes:Â  Zesty, tropical, citrus fruits are complemented by those famous bitey herbaceous undertones. Crisp, fresh Marlborough acidity balances with great structure and length – a real New Zealand classic. Now if that isn't something to celebrate – we'll bite our tongue. Enjoy in the sunshine and with anything from the sea.
My Review:Â  So remember last week when I talked about the Josh Cellars Sauvignon Blanc and my only real complaint with it was that it didn't have the bolder notes of citrus and herb that I prefer? The 2013 Matua Marlborough Sauvignon Blanc hits all those notes for me.
On the nose there's plenty of crisp citrus notes, but it's in the mouth that I found what I was looking for. Plenty of lime, balanced with herb notes and an overall "green" taste that I know some don't enjoy but that I find pleasant in the hotter months, were exactly what I wanted from my Sauvignon Blanc, and perfect counter to the creamy shrimp and feta pasta dish that we paired it with.
This is certainly a good deck wine for sipping on, but I would definitely say that for pairing purposes use it as a counter, putting it with something creamy or rich so that the acid can cut through that and provide a balanced dining experience.
A good value wine, and a good option for those that prefer their whites crisper, with more acid and citrus notes.