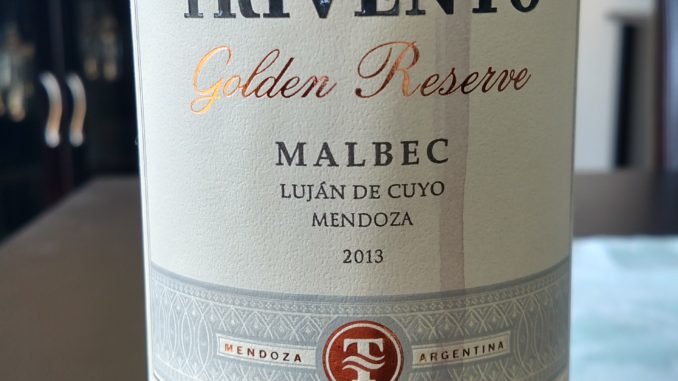 Variety:Â 100% Malbec
Region: Â Mendoza, Argentina
Cost: Â $21 (SRP)
Winemaker's Notes: Vigorous red with violet tints. The aromatic profile expresses the sharpness of red fruits such as raspberries and strawberries. Complex and intense in the nose, achieving an excellent balance with oak. Pleasant, sweet and profound, with vibrant tannins. Juicy and persistent finish.
My Review:Â Amazing how life gets in the way of writing. Fortunately I keep good notes, so I can always jump right back in. So several weeks back I got around to opening the 2013 Trivento Golden Reserve Malbec – I'd received it as a sample and had been sitting on it waiting for an appropriate dish, which finally presented itself when my wife decided to make Coq au Vin for dinner. But first, let's talk about the wine.
In the glass the wine showed dark red. I didn't get any of the violet tints that the winemaker did, but maybe it was just the lighting. On the nose I picked up raspberries initially, but tart strawberry did show as the wine opened up a bit. In the mouth the wine showed great fruit, with a juiciness that I really enjoyed and flavors of strawberry being more prominent than they were for me on the nose.
So how did it pair with the meal? I'll admit that I was a bit hesitant to open an Argentine wine with a French dish, but a couple of things swayed my decision. First, I had no French wine handy and my wine shop options in Greenville, NC are….limited. Second, the description on the notes I had of the wine led me to believe the wine would pair well enough anyways with the rich, earthy Coq au Vin. And?
It did. The tart fruit notes of strawberry and raspberry were a nice counterbalance to the rich dinner, while the strong tannins provided a nice body to hold up well against the dish. I'm not saying a nice Bordeaux or Burgundy wouldn't have been nice, but to be honest, it wasn't necessary and the Malbec did a perfectly good job of pairing.
I've seen plenty of Trivento on the shelves at my local store, though certainly not the Golden Reserve, and while I've tried some of the wines in the past, I have to admit that I enjoyed this one more than the others and definitely think it's worth the price to pick up a bottle and share a bottle with some friends.
Editor's Note: I received this wine as a free sample for review.