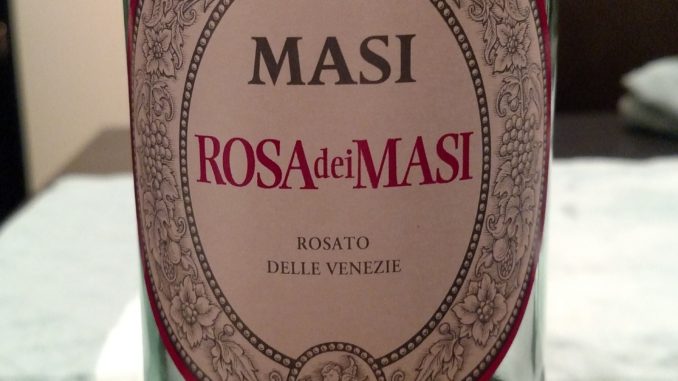 Variety: 100% Refosco
Region:Â  Rosato delle Venezie IGT, Italy
Cost:Â  $15 (SRP)
Winemaker's Notes:Â  Salmon pink and cherry-coloured reflections. Intense aromas of just ripened berry fruit on the nose, especially raspberries and wild cherries. Soft and well balanced with lively and refreshing acidity. Long and attractive finish. Excellent as an aperitif and with antipasta, light pasta dishes, shellfish, and seafood.
My Review:Â  I am so behind on posts, but then moving will do that to you. Be on the look out for a spate of posts in the coming weeks. Ok, enough of the housekeeping, let's get down to the wine.
Another hot summer day, another bottle of rose'. It's a tale as old as time. So what did I think of the wine?
I liked the color – the Salmon pink color was darker than other rose's I was drinking at the same time, and I found it quite appealing. While I don't think that the color had any relation to the body of the wine (which I found nice and light and refreshing), visually I feel like it screams "pair me with food!"
On the nose I picked up lots of ripe berry, mostly cherries, which carried through into the palate. My wife and I paired the wine with a seafood pasta dish and I thought it was a great pairing. The tart cherry flavor provided a nice contrast to the creaminess of the dish and inherent fattiness of the seafood.
That being said, 2015 Masi Agricola Rosa dei Masi is perfectly suited for sipping on by itself, which is really what I look for in a rose' – pair well with food, but don't discount it as an afternoon sipper.
For the price it's a good wine to pick up, and I think it's one worth having for pairing with burgers and BBQ as we head towards the tail end of summer and cooler weather (hopefully).
Editor's Note: I received this wine as a free sample for review.