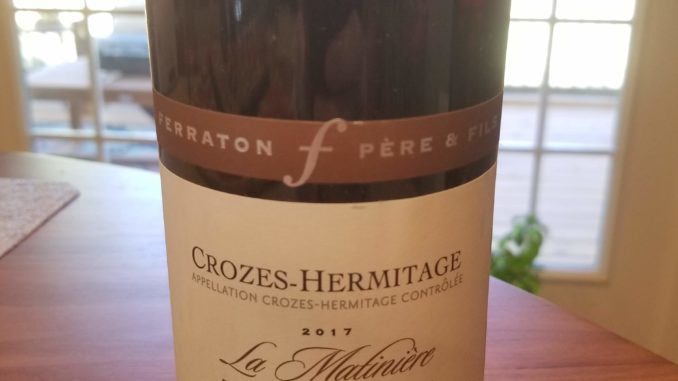 Variety: 100% Syrah
Region: Rhone, France
Cost: $26 (SRP)
Winemaker's Notes: Smooth-textured, with fine tannins, this is Syrah at its best – a mouthful of red berry and black currant fruit, smoke, cracked black pepper, mocha, and the tell-tale Rhone signature of savoury olive on the finish.
My Review: Fall is finally here, so I'm (more than) ready for nice dry reds with lots of dark notes. I may drink rose' year round, but it's past time to make it some of what I drink, not the majority because it's too hot to drink anything else. Enter the 2017 Ferraton & Fils Crozes-Hermitage "La Matiniere" Red.
In the glass the wine was a reddish-purple color. Some people may call it plum (my notes even have "plum?" jotted down); I'm sure the Lowe's paint department has some samples with very interesting names that match the color and give the same impression as "reddish-purple".
Aromas of currant and smoke jumped out at me, but it was in the mouth that the wine really shined. Flavors of red berry, spice, and black pepper shone through immediately but quickly gave way to notes of dark chocolate and an olive note that's typical of Syrah.
I didn't pair the wine with anything (unless you count a cool day and college football a pairing….Go Irish!), but I think roasted meats, aged cheeses, or really anything with some body or juice to it would be a great pairing for the wine; something that can hold up againt the bold flavors on the mid-palate and finish.
For the price I really liked this wine. It was a great value, it's versatile, and whether you're sipping on it alone or with some food, it's a great wine to pop open this fall.
Editor's Note: I received this wine as a free sample for review.