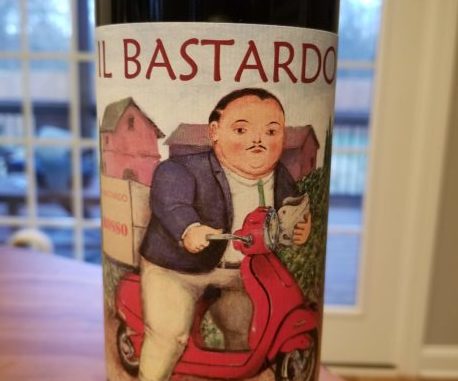 Variety:Â  Sangiovese
Region: Toscana, Italy
Cost: $9 (SRP)
Winemaker's Notes:Â This dark, ruby-red wine has an aromatic nose, with blackberry and cherry aromas and flavors. On the palate it is medium bodied with good tannins and an overall Chianti-like fruit finish.
My Review: Seriously, these labels and names just amuse the shit out of me. It doesn't matter how old I get, I'm still basically 16 years old. These things happen.
In the glass the wine was a deep garnet color. On the nose I picked up aromas of tart red fruits (cherry mostly) with a hint of oak. In the mouth the wine was tart, with flavors of cherry and cranberry with maybe just a touch of cassis. The Il Bastardo has a nic clean finish and doesn't linger longer than it needs to, something I appreciated.
I paired the wine with tacos (it was a long Friday, and IÂ really needed tacos and wine after a really long week in general). The wine paired well enough, but I think some traditional pasta dishes would be a better use of those tart fruit notes; anything savory and hearty that the tartness could balance out.
I'll admit that I wasn't as enamored with the Il Bastardo as I was the La Bastarda; it wasn't bad for what it was (though I suspect I want more from my Sangiovese given my long love of Chianti), or what I wanted it to be, but I think I went in with my eyes more wide open given my surprise the bottle before. Had I opened this first, the roles may have been reversed. No way to really know though.
Editor's Note: I received this wine as a free sample for review.