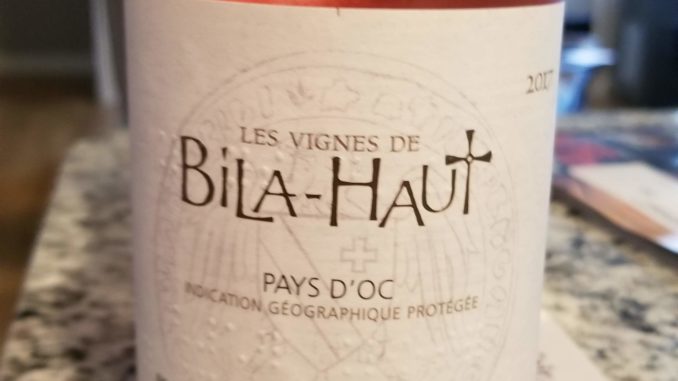 Variety: Grenache; Syrah; Cinsault
Region: Languedoc-Roussillon, France
Cost: $15 (SRP)
Winemaker's Notes: Bright, rose petal coloring. Amylic and floral notes. Fresh on entry, great acidity balance with white-fleshed fruit aromas.
My Review: Hello rose' season (hope you're ready for lots of my thoughts on rose' this year…if not, you should maybe tune out). So I got to review the 2016 Bila-Haut Rose' previously (right around this time last year to be honest), and while it didn't blow my socks off, I liked it for the value and thought it was worth looping into my summer rose' rotation.
So how did the 2017 measure up? About the same to be honest. And there's nothing wrong with that.
In the glass the wine was a slightly darker salmon pink color, and on the nose I picked up lots of strawberry with some white flowers. In the mouth the wine was a perfect balance of dry and juicy – the kind of thing you want on a hot, humid summer day by the pool since it's refreshing without being sweet. The strawberry notes from the nose carried through to the mouth with a hint of white pepper on the finish. My wife and I paired the wine with spicy chicken lettuce wraps, and the juicy strawberry was a nice balance to the heat of the food.
For $15 I continue to like this as a value buy, and I think opening it during a summer cookout would be a great way to use it – it's good for sipping by itself, but I think it would go great with burgers or BBQ.
Editor's Note: I received this wine as a free sample for review.