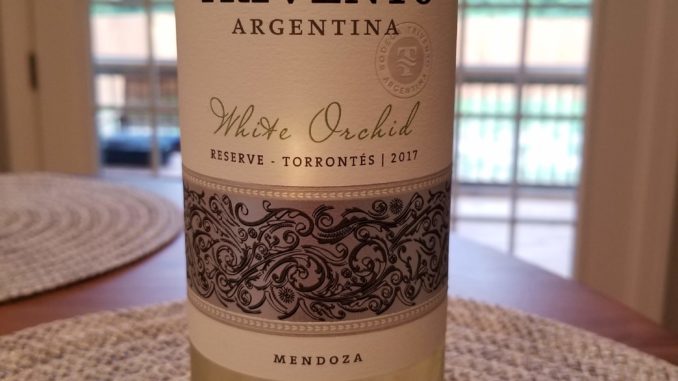 Variety: 85% Torrontes; 15% Pinot Grigio
Region: Mendoza, Argentina
Cost: $11 (SRP)
Winemaker's Notes: Pale yellow with silver highlights. The wine is crisp and bright. Opens with floral notes of white orchids, roses, geraniums, and is followed by the fruit; pineapple, banana, apple, and the orange peel typical from Torrontes. Finally the peaches, apricots, and honey thanks to a touch of the Pinot Grigio. Pleasant, medium, soft, with medium acidity, long finish primary aromas reminiscent. Pair with Nigiri or Sushi.
My Review: Torrontes is a grape that if not for this blog I don't know that I ever would have learned about, which would have been a shame, since it reminds me so much of Virginia Viognier, which I quite enjoy but have a hard time getting my hands on now that I no longer live in Virginia.
The other thing I like about Torrontes (beyond its availability) is the typical price – $11 is exactly what I'm looking for out of a Tuesday night wine (yes I'm sipping on this and writing about it on a Tuesday); something that's easy to pair with dinner after work but that I don't feel guilty opening without having a "fancy" meal – those $75 to $150 bottles are nice, but I feel the need to open them for special occasions.
But enough about my hang-ups on opening fancy wine. This is about the 2017 Trivento White Orchid.
In the glass the wine was a soft yellow color, and on the nose I picked up floral notes of white flowers and peaches. In the mouth those floral and peach notes continued, joined by a touch of honey, but certainly not enough to make the wine sweet; it's refreshing and light, exactly the sort of thing you're probably looking for on a hot summer day.
My wife and I paired the wine with chicken piccata, and the floral and honey notes were a perfect contrast to the briny flavors of the dish. While I certainly see this pairing well with sushi, I think anything with bold flavors and a bit of heat would be well served by pairing it with this.
For $11 it's hard to argue with the value of this wine. It's a fair representation of the grape, and this time of year when sharing food and drinks with friends is a regular occurrence, a white you can pair with food off the grill, light faire, or something more complex, all without breaking the bank, is welcome.
Editor's Note: I received this wine as a free sample for review.