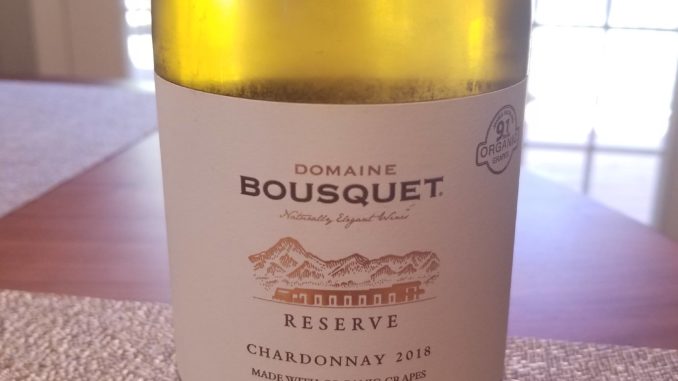 Variety: 100% Chardonnay
Region: Mendoza, Argentina
Cost: $18 (SRP)
Winemaker's Notes: Yellow colour. Apples, lemons, and pears aromas. Medium to full body with medium acidity and creamy palate. Serve with pasta in cream-based sauces.
My Review: Oaked Chardonnay; always an adventure in my house. So, before I dive too much into this wine, I want to talk about a note on the label that caught my eye – "Vegan Friendly". I'm sure that I, like a lot of people, thought that wine was already vegan friendly because….grapes?
The truth is that there are different fining agents and processing aids that have milk proteins, egg whites, gelatin, and other substances that are not, in fact, vegan. While they are not added to the wine directly, since they're involved in the process, lots of wine doesn't actually qualify as vegan. So now we've both learned something.
Alright, onto the (vegan) wine.
In the glass the 2017 Domaine Bousquet Reserve Chardonnay was a light golden colour with slashes of green. On the nose I picked up aromas of pear and citrus (mostly lemon and lime).
On the palate the pear really jumped out, joined by flavours of nutmeg. Having been oaked for 6 months in French oak, I was expecting some flavours of oak, and they were certainly there, but I was actually impressed that while present, the oak notes weren't overwhelming; it wasn't being used as a crutch, and there was still enough bite to the end of the wine to be enjoyable.
I didn't pair the wine with any food (beyond watching some Sunday football), but I think some creamy pasta, maybe a chicken or shrimp alfredo, would be a great pairing, the citrus of the wine being balanced by the oak to provide a good compliment to a creamy dish.
While the 2018 Domaine Bousquet Reserve Chardonnay was too oaky for my wife, I found the balance to be nice, and for $18, more than I was expecting. We're heading into the holidays when buying wine is always tricky, and for a large party with varied tastes, you could do a lot worse than a few bottles of this to share with family and friends.
Editor's Note: I received this wine as a free sample for review.