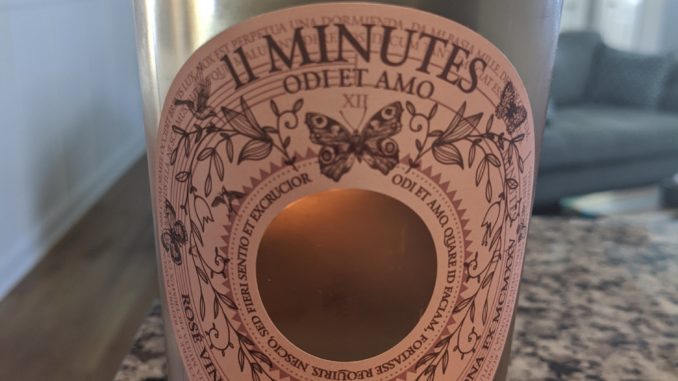 Variety: 50% Corvina; 25% Trebbiano; 15% Syrah; 10% Carmenere
Region: Lake Garda, Italy
Cost: $20 (SRP)
Winemaker's Notes: The Corvina varietal, which dominates in terms of percentage, was chosen for the floral aromas as well as the significant acidity it gives the wine. Trebbiano brings elegance and a long finish; Syrah gives fine fruit and spice notes to the glass and finally, Carmenere creates structure, ensuring stability over time. This is a fresh, enveloping rose' with an intense and complex bouquet, created to accompany spring or summer evenings and more.
My Review: I don't know what the weather is like where you live, but here in Raleigh, NC it's hot, which means my wife and I are leaning into drinking a lot of rose' (which, to be honest, we do year-round anyways).
Which makes a bottle of 2019 Pasqua 11 Minutes Rose' showing up at my door rather timely.
In the glass the wine was a very light rose color. On the nose, I got aromas of roses and white peach. In the mouth the 11 Minute Rose' was light and refreshing, and nice and dry; not bone dry, but certainly not off dry either.
The notes of rose on the nose carried through to the palate and were joined by crisp, tart notes and just the right amount of acid–not enough to turn your stomach after sipping too much or burn your palate, but on a hot day, it was just the right amount.
My wife and I paired the wine with seafood and risotto: blackened tuna for me and seared scallops for her. The crispness of the wine was a good counter to the rich creaminess of the risotto, and the hints of citrus and fruit on the wine as it warmed up and opened up were a nice balance to the blackening seasoning I used.
I really enjoyed this wine; it was crisp and refreshing, but certainly food-friendly. At $20 a bottle it's a good value; something you can pick up to enjoy by itself or with food.
Editor's Note: I received this wine as a free sample for review.