Varietal: Â 100% Brachetto
Region: Â Piedmont, Italy
Cost: Â $21 (SRP)
Winemaker's Notes: Â Festive cranberry in color with a haunting, aromatic bouquet with hints of raspberries, strawberries, and rose petals. A fresh raspberry taste, with crisp acidity, enticing the palate with an initial softness, graduating to a round and clean and dry finish. A unique and festive sparkling wine and a seductive aperitif. Pairs well with seafood, chesses, spicy fare, and chocolate. Serve chilled.
My Review: Â This wine showed up at my house a few weeks back rather unexpectedly. I've had Banfi wines in the past, and I've always kept a soft spot in my heart for Italian wines, but I'll admit that when this wine showed up with some chocolate in tow, I was caught a little off guard and not quite sure what to do as I don't typically go for pairing wines with desserts (not that I don't believe the pairings aren't there, just not something we usually do in my house).
With Valentine's Day quickly approaching, we decided to open up the wine to have with our dinner. We quickly realized our mistake, given the meal we were having (a pasta dish with chicken, shrimp, and a creamy gratinata sauce). Given my unfamiliarity with the grape, and since I hadn't tracked down any tasting notes (none were sent with the wine), I was unaware of the fact that this wine was on the sweeter side. Â  Â Â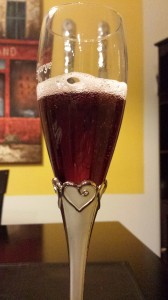 Let me be clear, the wine is resplendent in its flavors of raspberry. Seriously, if you're looking for a dessert wine and raspberry is your thing, the Banfi Piemonte Rose Regale may be your favorite wine. That being said, it wasn't the best dinner wine for us. Fortunately, I'm always prepared (yes, I was a Boy Scout) and we salvaged our wine pairing for dinner. Which doesn't mean we didn't sip on the wine later with some of the chocolate that had been sent.
While the tasting notes will claim you can pair this with seafood, spicy fare, and soft cheeses, I personally have a hard time coming up with a pairing I'd recommend that doesn't have the word "chocolate" in it. You've been warned. That being said, with the chocolate the already obvious raspberry flavors were a nice compliment to the dark, slightly bitter chocolate, and I'd be interested to pair this with something rich and chocolately such as a cake or souffle.
I won't go so far as to say that I'd pick this up again at my local store, in no small part because I don't typically pair wine and dessert at home (my aperitif of choice is typically in the whisky family), but if you're looking for a sweeter wine to pair with dessert, particularly chocolate or something else rich, this could be a good option for you.
Editor's Note: I received this wine as a free sample for review.