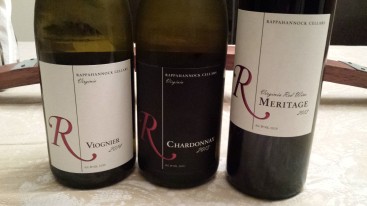 It's a new year (ok, it's February), and this month we had our first Virginia Wine Chat of 2015. Frank Morgan of Drink What YOU Like was at Rapphannock Cellars with owner John Delmar and winemaker Theo Smith to try some of their wines, pick their brains on both their vineyard and the larger Virginia wind industry, and to continue his efforts to expose the entirety of the world to Virginia wine. Keep up the good work Frank.
As usual, you can find the video of the Chat embedded below, but first, a few notes about Rappahannock Cellars and then we'll ge to my thoughts on the wines.
I've never had the chance to actually visit Rappahannock Cellars, but I have tried some of their wines at different wine expos and industry events. Rappahannock was begun in 1998 and opened to the public in 2001. They make about 10,000 cases per year, and have 26 different wines they make, 8 of which are typically found in their tasting room and are what they consider their "work horse" wines.
You can find Rapphannock Cellars in Huntley, Virginia, which is located just about an hour outside of Washington DC, and based on the wines I got to try last Thursday, I highly recommend a visit. Now, about those wines….
2014 Rappahannock Cellars Viognier – $34
The 2014 Viognier is a blend of 94% Viognier and 6% Petit Manseng. As a quick side note, I've been seeing more and more Petit Manseng used as a blending grape in Virginia white wine, and I'm very intrigued by it. I know Frank is a big proponent of the grape, and it will be interesting to see how it's used over the coming years.
The wine was light, nearly clear in the glass, and on the nose I at first picked up tropical notes that later showed more as banana as the wine warmed up and opened up. On the palate the Viognier was crisp and refreshing, showing some acid, but not too much. Again, the Tropical notes showed and what started as a hint of peach to me blossomed into banana, with just a touch of mineral effervescence on the finish.
This was Rappahannocks' first time using Petit Manseng as a blending grape with their Viognier, and I have to say it was a winner. The wine was refreshing and enjoyable, with just enough nuance to make it interesting, and would show great as a food wine, either with a main entree or with some creamy cheese – this has baked brie written all over it.
2013 Black Label Chardonnay – $34
The Black Label wines are Wine Club only, and if the 2013 Chardonnay is any indication of that club, it's gotta be worth the price to sign up. As you know, Chardonnay is a hot button issue in my house, my wife not particulaly enjoying oaked Chardonnay, but in the Black Label Chardonnay from Rappahannock Cellars, we may have finally found a winner.
The wine is 100% Chardonnay, and was a light, straw yellow in the glass. On the nose I picked up toast, spice, and coconut notes, and on the palate I found the wine to have a soft creaminess while maintaining great balance with flavors of spice and nutmet on the finish and pear and coconut at the start.
The wine has been aged in 23% New French Oak and been allowed to go through full malolactic fermentation. I absolutely loved this wine, and at $34 I think it's a great value. It's perfectly sippable by itself since the oak isn't oppressive, but it has enough body and character that it opens itself up to a wide variety of food pairings, including chicken and seafood.
2012 Rappahannock Cellars Meritage – $34
First the blend – the wine is 39% Cabernet Sauvignon, 35% Merlot, 17% Cabernet Franc, and 9% Petit Verdot. Dark garnet in color, I found notes of dark fruit, oak, and purple flowers on the nose, with in the mouth the wine showed a chalkiness at the start, and dry, black cherry notes through the middle and finish of the wine.
As the wine was allowed to open up it definitely smoothed out – not that it was rough to begin with. This was a great wine, and much like the Chardonnay before, is great for sipping, but provides versatility for pairing with food.
This wine started Frank's usual conversation that tends to come up with Meritage wines of what the most undervalued/underappreciated grape in Virginia is. This tends to come up with Meritage because he holds to the idea of Merlot (at least with the realm of red wine grapes) being the most undervalued.
While I agree with him on a fundamental level – the Sideways-effect is still strong against the grape across the country, which is a shame since we're making some great Merlot in Virginia, I like to stand up for Petit Verdot. It tends to be used as a blending grape here, but when done as a single varietal, I haven't found one yet that I dislike.
Thannks to Frank Morgan, John Delmar, and Theo Smith for another great Virginia Wine Chat. Next month Frank is going to be at Breaux Vineyards, so we're all really looking forward to that Chat. Check out the video below, and feel free to chime in with your thoughts on under-appreciated grapes in Virginia (or anywhere really).
Editor's Note: So here's where the embedded video should be, but it hasn't been uploaded to UStream just yet. Once it is, and believe me I'm checking every day, I'll embed the video and tweet about it.