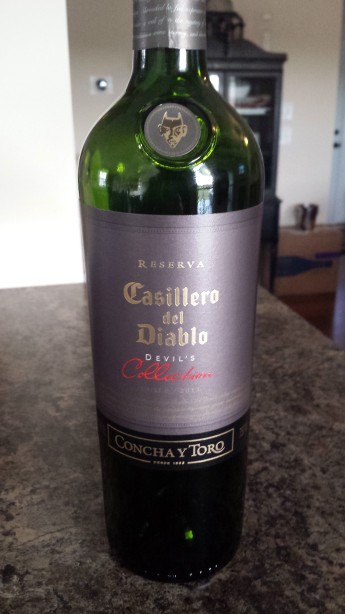 Varietal: Â Carmenere; Cabernet Sauvignon; Syrah
Region: Â Rapel Valley, Chile
Cost:Â  $15 (SRP)
Winemaker's Notes: Â This bold, bright blend of Carmenere, Cabernet Sauvignon Blanc, and Syrah from Chile's Rapel Valley energizes with flavors of dark ripe fruit, plum, black cherry and a sinful hint of dark chocolate.
My Review: Â I rather enjoyed the 2013 Devil's Collection White, so I was looking forward to the 2013 Devil's Collection Red as well. I won't go so far as to say that it disappointed – it's still a good wine, especially at the price point, but I think I wanted something other than what I got.
Let me explain.
I enjoy Chilean red, Carmenere in particular. I like the flavor of green pepper that some consider a flaw in the wine. Because of that I was disappointed that for all of it being listed first, and that presumably meaning that Carmenere was the most dominant grape in this blend, I didn't really get "Carmenere" when sipping on this wine. In fact, the Cabernet and Syrah were definitely far more dominant for me.
In the glass the wine was a deep reddish purple, and on the nose I picked up plum. In the mouth the wine was fruitier than I was expecting (or perhaps hoping for), with the plum from the nose carrying over and being joined by ripe fruit and a bit of dark chocolate on the very end.
None of this is to imply that the wine is bad, far from it – paired with a pizza after a busy day of moving it was a great pairing. It was not, however, what I was expecting, and I think anybody that goes in expecting a dominant Carmenere note for this wine will be disappointed.
Still, at $15 it's a good value, and the wine is, if nothing else, versatile enough to have gone with pizza, pasta, or something off the grill, so it's one I'd keep in mind in much the same way I would the 2013 Devil's Collection White moving forward – something to sip on without having to give it too much thought, but something that won't utterly disappoint either.
Editor's Note: I received this wine as a free sample for review.