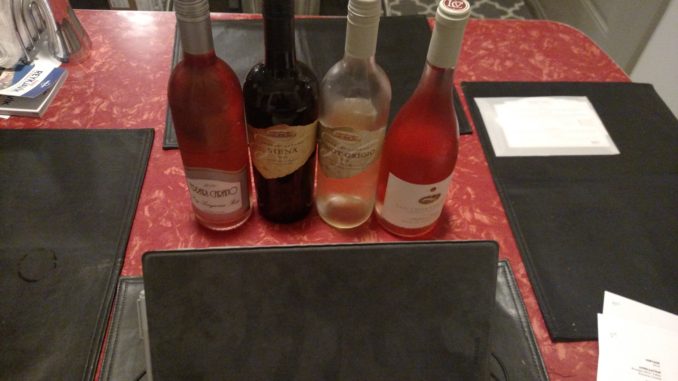 So a few weeks ago I got to participate in a tasting of four different wines from winemaker Sarah Quider of Ferrari-Carano, and since so many of them are appropriate for this time of year, I wanted to make sure to share my thoughts on what was a really great tasting while you still have time to grab them for Memorial Day. With that in mind, let's dive right in.
2016 Ferrari-Carano Pinot Grigio – $14
Made from 100% Pinot Grigio with grapes grown in the Russian River and Sonoma regions, the wine was light-bodied with aromas of green apple, white peach, and apricot, all of which carried through to the palate with a hint of salinity on the finish. My wife and I actually opened the wine before the tasting to pair with some chicken ramen/pho (what we make is in something of a grey area), and the bright, crisp flavors were a great compliment to the spicy flavors of our dinner. In addition to Asian cuisine, it's a great pairing with lots of seafood, including oysters, which I think would play on the salinity of the wine perfectly.
2016 Ferrari-Carano Dry Sangiovese Rose' – $14
Made with 100% Sangiovese grapes with grapes grown in Sonoma, this is the first vintage of this wine from the vineyard. A lovely light pink color, I got immediately got wild strawberries on the nose and in the mouth, though the mouthfeel reminded me of watermelon as much as anything. Holding the wine in my mouth showed a hint of effervescence (though nothing approaching bubbles). I love pairing rose' with burgers from the grill, but this would also be great with salmon or other fresh seafood, as well as spicy middle eastern dishes. Also, with a price below $20, it was easily the best value of the night and both my wife and my favorite wine.
2016 Lazy Creek Vineyards Rose' of Pinot Noir – $22
I know, the title said this was a tasting of Ferrari-Carano wines, but in reality it was a tasting of wines from Sarah Quider, and she is the winemaker of this newly acquired vineyard. Made with 100% Pinot Noir grapes grown in Anderson Valley, the wine showed an orangish pink color. I picked up flavors of orange, watermelon, and tart dry berries. With a dry, biting finish, this rose' is the epitome of crisp and refreshing, a great dinner wine. Whereas the Sangiovese Rose' would be great with burgers and brats, the Lazy Creek Rose' calls for salmon or charcuterie – something more refined.
2014 Ferrari-Carano Siena – $21
For our last wine of the night we went with a red. A blend of 73% Sangiovese, 14% Malbec, 6% Cabernet Sauvignon, and 6% Petite Sirah, with grapes grown in Sonoma, the wine was a purplish color in the glass, having been aged for 14 months before spending some additional time aging in the bottle. I picked up licorice on the nose, with flavors of cherry cola and smoke that quickly faded into a nice soft finish. I really wanted to pair the wine with BBQ that had some type of cherry cola marinade, but it would also pair well with Italian dishes, pizza, or tomato sauces.
Wrapping Up
While the Dry Sangiovese Rose' was the house favorite, these are all great, budget-friendly wines perfect for family gatherings and cook-outs this Memorial Day weekend, so if you're looking to bolster your selection before the unofficial start of Summer, you could do a lot worse.
Thanks again to Sarah Quider, our great host Chelsea, and Ferrari-Carano vineyard for a great tasting and some great wines.
Editor's Note: I received these wines as free samples as part of a virtual tasting.