If you'd asked me to describe a Virginia vineyard tasting room nine years ago my immediate response would have been "farmhouse." Mind you that wouldn't have been an indictment of them, but it was typically accurate and was an easy to let somebody know what to expect when visiting the tasting room of one of my state's fine wine establishments.
In recent years, however, that has changed. Tasting rooms have become more elaborate, comfortable, and welcoming. They've also evolved from a place where you could taste a handful of wines to somewhere to pair wines with food and spend an afternoon. Perhaps nowhere is that more evident, at least in my experience, that at Pippin Hill.
Last week I was invited out to Pippin Hill for lunch. My wife and I had visited them once last year and enjoyed their wines, so I was excited to spend an afternoon enjoying some of their food and wine now that new vintages had been released. Now when I say lunch I do mean lunch. Most vineyards offer food now, and while what that constitutes varies, at Pippin Hill that means a seasonaly rotating menu that's created by their amazing chef and prepared in their full kitchen.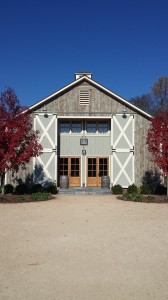 But before we get to the food, let's talk a little bit about Pippin Hill itself. The view from outside is amazing. Even on a cold day, there was a beautiful, clear view that would be great to appreciate with a glass of wine on their patio, weather permitting. Inside there are several tables, a couch, and a tasting bar all situated so that they're easy to move between but still manage to make you feel comfortable and cozy.
There's plenty of exposed wood and the windows allow for great light to come streaming in. I was there at noon and there was great light coming into the main room so I can only imagine how nice it would be at sunset. So, what about the food?
While I had the entire menu to choose from I took recommendations from my lunch partner as well as the waiter and ended up ordering the Pippin Sliders for myself. We also shared a cheese board and Meg, who had invited me out and joined me for lunch, ordered the kale caesar salad. Let's start with the cheese board.
I don't have a list of all of the cheeses that were on the board, and even our waitress had to write down what was on it since it changes regularly, which I approve of. Aside from several pieces of lightly toasted bread and come candied walnuts there were 3 different cheeses, both local and international, fig mostarda, and jam. There was plenty for the two of us, and would have been enough for more to be honest.
The cheeses were a nice mix of creamy and harder cheeses, and, at least for me, none of them were too strange or funky, which I know some people can be picky about. The candied walnuts were nice for a bit of crunch and sweetness (Meg was worried she'd eaten them all – they're that good), and the spreads were good either with or without cheese.
Even though the weather was cool outside, our waitress recommended the Summer Farm Sparkling Rose' to pair with the cheese, which I was more than happy to agree with.  Made entirely with Cabernet Franc grapes, the Summer Farm Sparkling Rose' is a nice dark salmon color and showed off great aromas and flavors of rose and candied fruits. It was a great pairing with the cheese board and honestly would have been perfect for sipping on outside had the weather been warmer.
For the main course of my lunch, again on the recommendation of both Meg and our waitress, I ordered the Pippin Sliders. Bundoran Farm's grass-fed beef, McClure cheese, caramelized shallots, grape vine smoked ketchup, parmesan frites – that's what the menu says and it doesn't really convey how great these were. Juicy, perfectly cooked, with amazing seasoning; the perfect lunch. You wouldn't think that two sliders would be enough, but trust me that between the size of the sliders and the amount of fries that you get, it's plenty.
Again turning to our waitress for a recommendation on wine, I went with the 2011 Merlot. Very smooth, thanks to 11 months in new French oak, with a little bit of spice, the merlot is light, smooth, and was a perfect match with the sliders. I liked this wine so much that I took a bottle of it home with me later.
After lunch I took the time to do a comprehensive tasting (which I'll save for another post) before snapping some more photos and heading home. My afternoon at Pippin Hill was amazing. The staff was friendly, the food and wine were amazing, and their tasting room and grounds are beautiful. On a side note, they also have a banquet room that's available for weddings and special events – something to keep in mind for those planning weddings.
Whether or not you're in the area I definitely recommend a visit out to them. Whether you visit now and enjoy some time indoors or wait until the weather warms up and enjoy their patio, make sure you leave yourself the time to sit down, enjoy some food, sip on some wine, and just relax.
Check out the Pippin Hill menu before you visit since it's always changing and learn more about hosting your private event at the vineyard.