On Friday, I was fortunate to be invited to a lunch in Vienna to sample some Argentine food and wine. The Culinaria Cooking School was kind enough to host us as myself and others sampled a host of Santa Julia wines from the Zuccardi Family of wines, all paired with great Argentine food in what may have been one of the best lunches I've had. As with all good things, it started with bubbles.
We were each greeted with a glass of the Santa Julia Rose NV ($13 SRP), made from 100% Pinot Noir. The wine was a deep pink in color with aromas of strawberry that I would expect. In the mouth were subtle fruit flavors which went well with the light bubbles in the wine. All in all, a great way to start the lunch.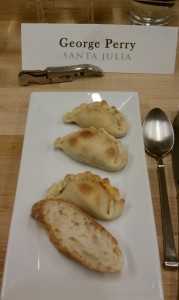 Our first course was a selection of Zuccardi Olive Oils with some fresh baked bread and Beef Empanadas, which had some hard-boiled egg in them, which I found to be absolutely brilliant. To pair with this we had a 2010 Santa Julia [+] Torrontes and a 2010 Santa Julia [+] Malbec ($10 SRP for both). The Torrontes had nice floral notes on the nose, and a slight sweet finish that was a nice counter note to the subtle spice of the empanadas. The Malbec was jammy and fruit forward, with dark fruit on the nose. 
The second course featured a home made goat ricotta cheese served over Shiacciata l'uva bread with raisins and fresh grapes and touch of olive oil. The ricotta and the olive oil gave this amazing combination of sweet and savory, and when you added in the tang of the raisins and grapes, the whole combination was savory and sweet in the mouth all at once and just great. Paired with this we tasted a 2010 Santa Julia Organica Chardonnay ($11 SRP). The Chardonnay offered up tropical notes on the nose with a robustness in the mouth that made me think it had spent time in oak barrels, which it hadn't.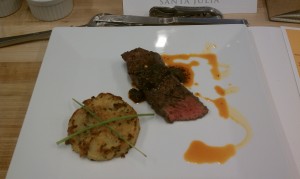 The third and main course was a beefsteak with crunchy potatoes and chimichurri. I want to start by saying that the chimichurri had some kick to it, with a heat that lingered in your mouth – not to say it wasn't good, but it wasn't something I was ready for and it kicked on the first bite. The steaks were cooked to perfection, and the crunchy potato cake was a nice textural difference from the steak. To pair with this we had two red wine selections – a 2009 Santa Julia Reserva Malbec and a 2009 Santa Julia Reserva Cabernet Sauvignon ($12 SRP for both). Both wines were a nice dark color, with the Malbec show aromas of dark fruit and tobacco with a smooth feel in the mouth. The Cabernet Sauvignon showed some of the same aromas as the Malbec, cherry, dark fruit, tobacco, and some leather, but was more full-bodied in the mouth, which is why of the two, I enjoyed it with the steak better.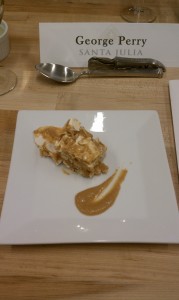 The final course, the dessert course, was nothing short of amazing. We were served a Mendocinean puff pastry which was a crispy handmade puff pastry covered in a handmade dulce de leche in layers (think baklava), that we then ate with our hands. The pastry was sweet, but not overly sweet, and when paired with a 2009 Santa Julia Tardio ($13 SRP 500ml) it was a great finish to our lunch.
So, my take-aways from this lunch. While I already knew Argentina was making some great wines, this just confirmed it even more. What I really appreciate is that they're creating amazing wines at great prices, making them accessible to everyone. Santa Julia and the Zuccardi Family in general have done an amazing job of making wines that I think are perfect for this time of year – they just cry out to be shared with family and friends over a warm weekend in the backyard.
I want to thank our chef, Ana Soledad Rodriguez Armisen and Julia Zuccardi (the namesake of the wines)Â for an amazing lunch, as well as the Culinaria Cooking School and their amazing staff for letting us use their space – if you're looking to take a cooking class, I definitely recommend going there.