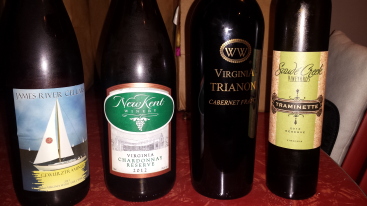 Just in time for Halloween was this month's Virginia Wine Chat. This month we took a trip down the Colonial Wine Trail, with wines from Williamsburg Winery, New Kent Winery, James River Cellars, and Saude Creek. As has been the trend lately, there was a great discussion. Normally I embed the video of the chat below, but there was a technical difficulty this month (Frank forgot to hit the record button), so you'll just have to take my word on it that the discussion was great. Now, on to the wines.
2012 New Kent Winery Reserve Chardonnay
New Kent is about 20 minutes from my house, and while I'll admit to having been underwhelmed by their wines when they first opened their doors, they have, more recently, been really impressive, and sit on the list of a great way to spend an afternoon, thanks to their quality wines and their fantastic patio for relaxing with a patio and a bottle of wine.
A few years back New Kent won the Governor's Cup with their Reserve Chardonnay, and while this wine doesn't quite stack up to that one just yet, it was certainly one I enjoyed, with a subtle oakiness balanced by a good level of acid. Flavors of Apple, Banana, and a bit of Toast were most evident, and while it wasn't quite up my wife's alley (she doesn't really like oaked Chardonnay), it was one I really enjoyed sipping on both during the tasting and the next evening.
2013 James River Cellars Gewurztraminer
While I've certainly had some good ones in recent years (thanks to both Virginia and the Finger Lakes making dry, mineraly Gewurztraminer), having lived in Germany for a number of years means I'll always associate the grape with syrupy, sweet wines. Fortunately, that wasn't the case with this wine.
Golden in color, the wine showed hone on the nose, with flavors of lychee, apricot, and hint of grapefruit in the mouth. While there was certainly some sweetness to the wine, it was subtle, and in no way syrupy, making it a good choice for a hot day to sip on, provided the wine was ice cold.
2013 Saude Creek Traminette
This wine threw everybody for a loop I think, given that it showed up in a bottle that most of us associate with dessert wine. But, as we were informed, the bottle selection was purely cosmetic and in no way reflected the contents of the bottle itself – ie: this wasn't a dessert wine.
On the nose the wine was a bit musty, and in the mouth it was light, with very little sweetness, thanks to 1.8% residual sugar, and showed off flavors of apricot as well. I found it to be quite tasty, and in fact sipped on it the next night when we finished the wine with some friends and family. While certainly an easy wine to sip, I would want to pair this with some Thai Food – nothing too spicy, but enough for the food and wine to balance each other just right.
2012 Williamsburg Winery Virginia Trianon
Williamsburg Winery won the most recent VA Governor's Cup with their 2010 Adagio (a well-deserved wine). The Trianon is another great wine. A blend of 75% Cabernet Franc, 13% Merlot, and 12% Petit Verdot, the wine was light, garnet red in the glass, with an oaky, woodsy note on the nose and bright red fruit and dry, dark cherry notes in the mouth and a semi-tart finish.
While the Cabernet Franc was definitely the star of this wine, there was no denying the presence of the Merlot and Petit Verdot that rounded out the wine and took it from being merely an ok wine to something worth picking up, both for sipping on by itself or to pair with food – both easy options.
Check Back Next Month
Thanks to Frank Morgan from Drink What YOU Like for another invite to this great event, to the staff and winemakers at Williamsburg Winery, New Kent Winery, James River Cellars, and Saude Creek, and to my fellow bloggers for another great discussion on Twitter.
Next month the tasting is Fabbioli Cellars on November 20th (my birthday), so be sure to check back and visit the hashtag #VAWineChat to learn more.