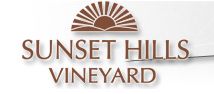 During the last week of June I was lucky enough to participate in another Virginia Wine Chat, this time featuring a vineyard that I had recently visited while doing some tastings in Loudon county with my wife and parents – Sunset Hills Vineyard.
As usual we tasted three different wines, all while Frank Morgan of Drink What YOU Like interviewed the winemaker, this time Nate Walsh. I won't go into all the details of the interview since you can see it in the video I've embedded just below, other than to say that Nate definitely has a vision for the wine he's making, and I look forward to seeing that vision come to fruition.
Broadcast live streaming video on Ustream
Now, on to the wines.
The first wine that we tasted was a Rose'. There was a bit of confusion as some of us got the wine that was scheduled for the tasting, a 2013 Rose' of Cabernet Franc, while others of us, myself included, got the 2013 Sunset Rose', which I had actually tasted during my recent trip to the vineyard and liked enough to bring home a bottle of my own.
The 2013 Sunset Rose' ($22)), is a blend of 81% Chambourcin and 19% Traminette. It's a very dark pink in color, almost bordering on just being red. On the nose I got lots of cranberry, which carried over into the mouth where it was tart and refreshing, thanks to 1% residual sugar that balanced out the cranberry flavor.
Next up was the 2013 Sunset Hills Viognier ($26), a blend of 95% Viognier and 5% Petit Mansent. A bunch of apricot on the nose with a mouth of melon, floral notes, and some spice. The wine was clean without being too crisp, and while it only featured .5% residual sugar, it actually came across as a bit sweeter, though certainly not to a level where I would label it a sweet wine. As the wine warmed more of the aromatics were released, and this is definitely a wine I would recommend for the patio or deck on a warm day.
Finally we had the 2010 Sunset Hills Mosaic ($50), a blend of 37.5% Merlot, 37.5% Cabernet Sauvignon, 18% Cabernet Franc, and 7% Petit Verdot. The signature wine for Sunset Hills, and the first vintage of it they made, the nose showed nice dried plum and current brambles, while the mouth was juicy, big and bold while still being smooth, showing great flavors of tobacco, cedar, and dried strawberry on the finish.
This was another great tasting, and I'm looking forward to when Virginia Wine Chat starts back up in August (Frank took July off to go to the Wine Blogger's Conference in California – we're very jealous). Don't forget to follow along each month on Twitter using the hashtag #VAWineChat, or to visit at uStream and watch the feed yourself.