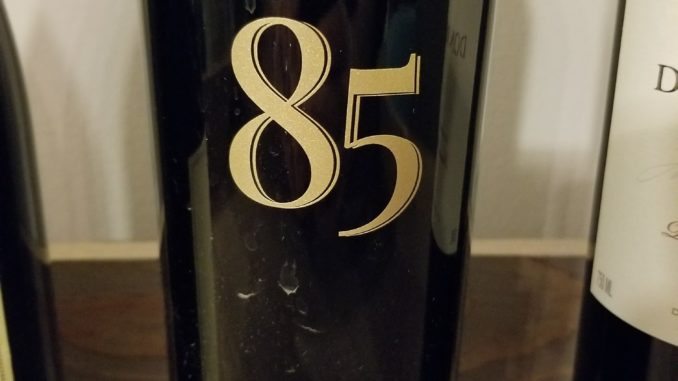 Variety: 69% Cabernet Sauvignon; 18% Merlot; 8% Petit Verdot; 5% Cabernet Franc
Region: Mendocino County, CA
Cost: $45 (SRP)
Winemaker's Notes: Dark berry and vanilla aromas are followed by black cherry and layers of toast and spice flavors. This well-structured wine is a great choice to drink now, though it will continue to become more complex and integrated throughout the years; drink now through 2022.
My Review: So earlier this week I talked about the True Grit Petite Sirah Vertical that I opened as part of an evening of pricey wines I shared with some friends. As part of that evening, I also opened this bottle from Parducci Winery – a bottle celebrating their 85th anniversary vintage with the 2015 vintage.
I really enjoyed this wine – it was nice and dark in the glass and I picked up aromas of dark berries and flavors of spice. The wine had a nice robustness in the mouth; not too big, but it would definitely hold up to heavier meats or stews just fine, which is perfect for this time of year.
Our food that evening consisted of cheeses, crackers, and some meatballs (had to have some protein), and I have to say that the Parducci 85th Anniversary was actually really good with the Korean BBQ meatballs that my wife made – the spice of the wine with the tanginess of the sauce was an interesting and enjoyable pairing.
The thing that impressed me the most about the wine was that at 14.2% alcohol/volume I was worried that it would start out a bit hot, but even without decanting it, I never felt I was being overwhelmed by an aroma or flavor of alcohol, making this a great bottle to open when you're ready to enjoy it (not that decanting it will hurt it).
At $45 I really like this wine, especially for that special night. It's a good value, drinks really well, and could pair with the range of foods that we're all about to enjoy this time of year.
Editor's Note: I received this wine as a free sample for review.