So I've been tinkering around with this drink in my head for a while and I finally got around to making it this weekend. There are actually two versions of it, one of which requires less equipment than your average home bar may have access to. So, without further ado, here is The Lucille Ball:
The Lucille Ball
2 oz Bourbon (I used Bulleit)
1 oz Smoked Ginger-Honey Syrup*
1/2 oz Lemon Juice
Combine the ingredients and shake over ice. Strain into a glass and enjoy. I used an Old Fashioned Glass, but I think a couple would be perfect.
The syrup is really the star of this drink, with the spicy-sweet combination of ginger and honey featuring the unexpected, and pleasant, smoky note. So, how did I go about making the syrup?
*Smoked Ginger-Honey Syrup
1 cup water
1 1/2 cup honey
1/4 cup ginger

Combine the honey and water in a pan. Bring to a boil and then reduce to a lower simmer for about 10 minutes. Turn off the heat and set aside to cool. Peel and thinly slice the ginger into rounds and lay them in a shallow pan or dish. Cover with plastic wrap and infuse with smoke. I used The Smoking Gun to do this and used Hickory wood.Do two rounds of smoking on each side then place the smoked ginger and your honey syrup in a container and allow to infuse for at least 2 hours. Strain off the syrup, being sure to press the ginger for any syrup it may have absorbed. Bottle and enjoy.
Alright, so I realize that not everybody has access to a smoking gun or wants to invest the time into smoking ginger. I realized this and actually tried the cocktail without smoking the ginger and just infusing it into the syrup. It turned out really well, but I'll admit that it's better to do with the smoke. That being said, if you can't smoke, here's how to make the syrup:
Honey-Ginger Syrup
1 cup water
1 1/2 cup sugar
1/4 cup finely chopped ginger

Combine ingredients in a saucepan and bring to a boil. Reduce to a simmer for ~10 minutes. Remove from heat and allow to cool. Strain of solids, being sure to press them for any absorbed syrup and store in a bottle in the fridge.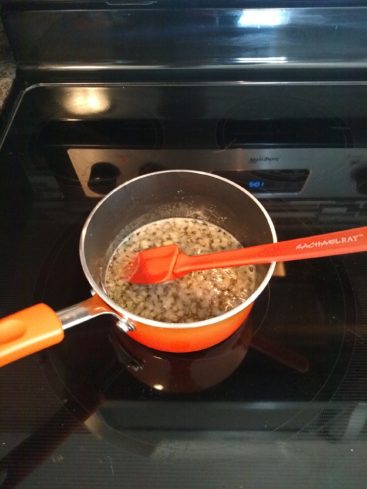 Far less complicated and still very tasty. If you're wondering why the name it's really quite simple – a sweet, smoking hot ginger with just the right amount of bite to her. Don't judge me.
Give it a try and let me know what you think.