Dec 22 2010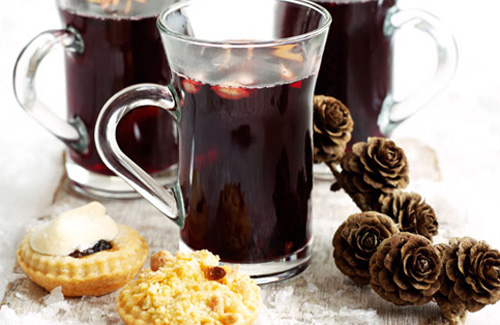 If where you live is anything like where I live, it's unreasonably cold outside.  If it's warm where you live I no longer like you.  I kid.  This time of year is perfect for mulling wine to serve during parties, after dinners, or just because it's cold and you want something to warm you up.  While there are plenty of pre-packaged mulling options out there, and many of them are good so don't let me discourage you from getting them, there's something to be said for making your mulled wine from scratch.  Here's a recipe that should work great.
1 bottle (750ml) red wine (cabernet, zinfandel, merlot – nothing expensive)
1/4 cup Brandy
1 orange; peeled (save the peel for zest later)
8-10 cloves
2/3 cup honey or sugar
3 cinnamon sticks
1 tsp ground ginger or allspice
Simply combine all the ingredients into a pot or slow cooker and heat over low to medium heat for about 20-25 minutes, making sure it doesn't come to a boil and stirring occasionally to make sure the honey/sugar dissolves.  Once the wine is steaming, simply ladle into mugs and enjoy.  Feel free to tweak this recipe to taste.  This is the perfect holiday treat for the wine lovers at your party and a great way to stay warm in the cold months.
One Response to "Mulled Wine"
#

Lydia

on 28 Dec 2010 at 11:39 am

Thanks for this. I'm fairly new to wines, but getting into them very quickly, and I kept saying to myself, 'I wish there was a wine that had spicy notes similar to a chai tea". You have some key chai spices in your ingredients (at least the ones that are favorites) Looks like now I can make that happen on my own now.

I also live where it's unreasonably cold outside and sometimes I wonder why I chose to stay in a place subjected to brutal winters. If I was still a kid I'd be delighted by the recent snow fall and go make an igloo…kinda miss those days, but at least now I'm old enough to start having fun with mulling my own wine!