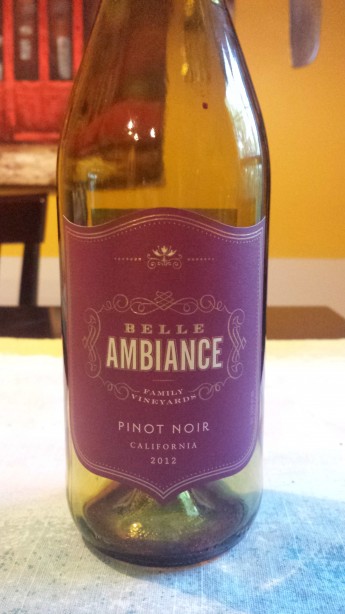 Varietal: Â Pinot Noir
Region: Â California – USA
Cost: Â $10 (SRP)
Winemaker's Notes: Â Lose yourself in the alluring aromas of cherry, plum, and cocoa before indulging in the soft, elegant flavors of sweet fruit and toasty oak as they dance across your palate. From the soft tannins to the balanced acidity and clean, fruit-filled finish, this enchanting wine expertly captures the essence of everything that makes Pinot Noir so irresistable. Slip into your most comfortable loungewear, pick out a movie and pair this wine with a vegetarian pizza or pulled pork sliders. And for the ultimate guilty pleasure, savor along with Bing cherries dipped in dark chocolate.
My Review: Â And so the trio of Belle Ambiance comes to an end. We had a good run, got to try some different wines, formed some opinions. It was fun. But, like all good things, it had to come to an end. If you're going to end something, there are worse ways to end it than with Pinot Noir.
In the glass the wine was a lighter red color, and on the nose I picked up cherry and cocoa. In the palate I noticed the sweet fruit at the front and the fruit-filled finish that the winemaker found, along with some cola notes in the middle that I often find with Pinot Noir.
Paired with a dinner of whole wheat spaghetti and meatballs it was a respectable pairing. The wine was good, but not great, and served well as an option on a Tuesday night after work and making dinner.
There are a lot of budget Pinot Noir options on the shelf, and while I don't know that I can say that this is the best among them (since I haven't had them all), I can say that it's certainly a solid buy at $10, and one that I would definitely consider again if I found it on the shelves.
While we paired the wine with pasta, pizza, burgers, or any casual, relaxed meal would be a great pairing for this wine. We're moving into the time of year of cookouts, so some burgers or, as mentioned above, pulled pork sliders, would probably be a good way to enjoy this very sippable, if not terrible memorable, wine.
Editor's Note: I received this wine as a free sample for review.