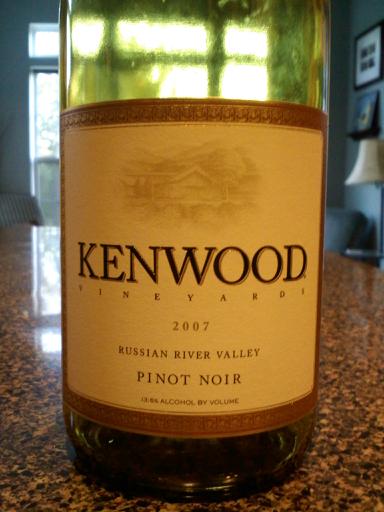 Varietal: Pinot Noir
Region: California – Russian River Valley – USA
Cost: $15 – $20
Aromas of cherry and red currant lead into a light, smooth wine with excellent acid and very subtle tannins. Â Pair with pork, chicken, lamb, or salmon.
Recommendations: I had picked out several bottles of Pinot Noir for Thanksgiving, but this is the bottle that actually got opened during the feast of Turkey Day. Â The wine itself was very light, with a good bit of fruit flavor that went very well with the turkey, ham, and various sides we had for dinner.
The best part of the wine was the tannins though. Â Smooth and subtle, this wine was the perfect pairing for our Thanksgiving meal. Â Kenwood Vineyards recommends pairing this with pork, and I imagine this wine would go great with a pork tenderloin.
Either way, this is a great wine and certainly one worth picking up again for a Christmas dinner with similar food offerings.