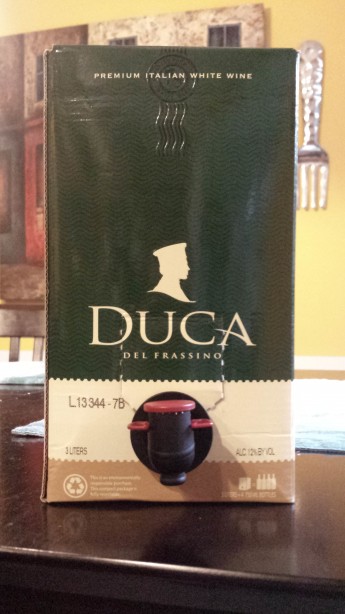 Varietal:  Pinot Grigio & Garganega
Region:  Venezia, Italy
Cost:  $20 (SRP)
Winemaker's Notes:  Charming with a bouquet of green apple, pear, and white flowers with delightful crisp flavors of apple and white pear that build on a long, lingering finish.
My Review:  Ah, boxed wine. You either love it or hate it. I'm in the former camp for the record. This time of year, I love to have a box of white wine sitting in my fridge, ready to grab a glass whenever I want without having to open an entire bottle – something nice and versatile that can go with a variety of foods or with nothing at all, all of which made the arrival of the Duca del Frassino Pinot Grigio/Garganega perfect.
The nice thing about sampling a box of wine is that I don't have to pick one thing to pair it with, I can try a number of things over several days, in this case a variety of food that included cheese and crackers, grilled pork chops, and a pasta dish featuring shrimp and asparagus.
But enough about what I tried the wine with, you're curious about the wine itself, as you should be. Alright, on to my thoughts about it.
In the glass the wine was light yellow. Certainly not clear, but neither was it a darker yellow. Pale straw is a good way to think of it. On the nose I picked up apple and white flowers, while in the mouth the flavor of the wine was dominated by the crisp apple notes.
While the wine is definitely light and crisp, it manages to offer some roundness and body that makes it very versatile. It paired well with all of the foods I tried it with, doing as well with the grilled meat as it did with the seafood pasta.
For $20 this wine is a great value, especially as we move further into summer and the deck and patio season. I'll admit to not being familiar with Garganega, so I can't say how much of what I liked about this wine was contributed by that, but Pinot Grigio was one of the first whites I ever tried when I was getting into wine, and while it's one that I don't drink as much as I used to, I do still find it enjoyable on a hot day.
Also, as a quick side note on the actual box design, I appreciated that there was a safety locking mechanism on the valve that made it impossible to accidentally release wine while pulling out the spigot. Given that it wasn't a turn spigot, this was a brilliant design decision and one I wish more would make.
Ok, go buy this wine, enjoy it with friends, and hopefully you'll find it as refreshing and versatile as I did.
Editor's Note: I received this wine as a free sample for review.