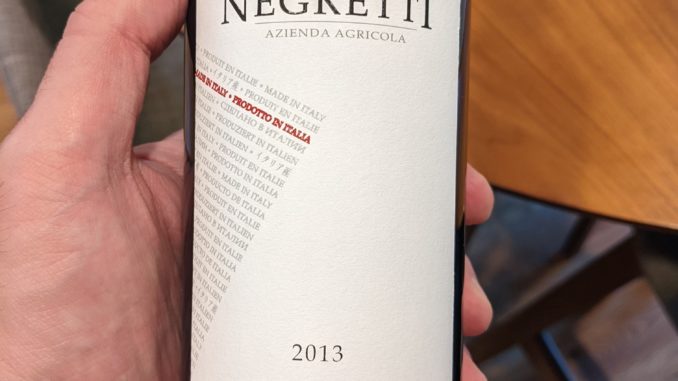 Variety: 100% Nebbiolo
Region: Piedmont, Italy
Cost: $35
Winemaker's Notes: Purple reflexes mix amaranth with dark notes coming from a long refinement. This unique wine requires a careful eye, the awareness of being in front of an ancient story.

Born from an incomparable vineyard that gives extraordinary grapes thanks to its microclimate, soil composition and richness of microelements. This Barolo doesn't accept any compromise, wearing an exotic dress and speaking a different language. Incense, turmeric, sandal and black liquorice are mixed with faraway spices and are confirmed during the tasting where blackberries and gooseberry interchange with Indian curry. A tannic complexity puts everything together surrounding mystic notes of incense.
My Review: It's not too often that I pick up wines that are nearly a decade old, but then that's why I've come to enjoy Last Bottle Wines and their marathon sales – I get to try wines that wouldn't normally pick up on a whim. When I do get to try them, however, I lament that unlike so many others in my hobby (or industry for those that actually make a living doing this), I don't have a wine cellar full of wines ageing for years.
Still, getting to try a wine like the 2013 Negretti Barolo Mirau saves me the storage space.
In the glass the wine was a light garnet color that captured the light brilliantly. On the nose I got exotic spice notes mixed with candied cherry for a gorgeous mix of bright fruit and sultry spice that found me trying to get my nose further and further into the glass to try and take in as much of the aroma as I could.
In the mouth the wine showed more of those spices joined by dark berry notes in a light to medium bodied wine. Most surprising was the clean finish. With all of the spice I was expecting a wine that lingered, yet shortly after every sip the memory of the taste remained, but perhaps because of the lighter body, the wine didn't coat the mouth and linger the way I think I was expecting it to.
I paired the wine with a New York Strip, and the spice notes were a great compliment to the grilled meat. I really enjoyed this wine, and at $35 I got a great deal on it; I couldn't find an SRP, but the 2013 Negretti Barolo Mirau easily drinks like a $50 wine.
We're heading into the holiday season, so if you're looking for a wine for a special occasion, you could do a lot worse than this bottle, either to share with friends or to give as a gift to the wine lover in your life.