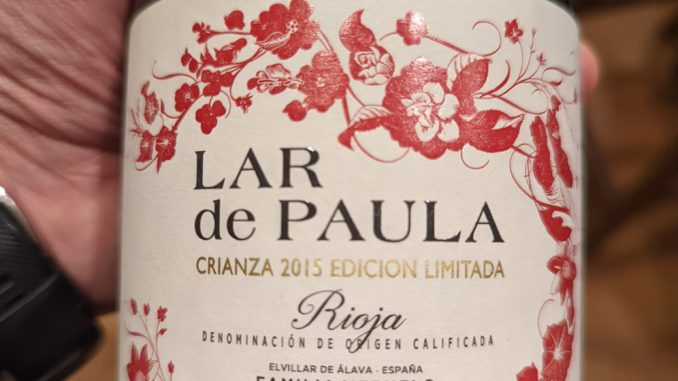 Variety: Tempranillo
Region: Rioja, Spain
Cost: $15
My Review: I love a good Rioja–it's versatile, perfect for sipping on its own or with a variety of foods. It's also usually very affordable. While there are certainly rare or highly sought after bottles that can eat into your budget, you can find very good Rioja for very affordable prices, making it a great wine to keep around for every day drinking.
Which, of course, is why I grabbed a bottle of the 2015 Lar de Paula Rioja; I wanted something that I could open up on a Tuesday without feeling like it called for a fancier occasion, but also something that I wouldn't regret drinking later.
I sorta nailed it with this one.
On a night when my wife was out of town and I was preparing for my own travel, a Domino's Pizza was ordered (don't judge me), and since I had been up since 4am to take my wife to the airport, I wanted something to help me unwind and relax so that I could get a good night's sleep.
In the glass the Lar de Paula Rioja was a garnet red and near semi-translucent. On the nose I picked up aromas red fruit and licorice. On the palate I got flavors of spice and juicy red fruit that gave way to a dry finish and a soft tannic structure that was a good counter to the saucy pizza.
I really liked this wine, and being able to grab it for $15 made it a great value, and one that I regret not purchasing more of (seriously, one bottle was not enough….in hindsight I wish I'd bought at least half a case). If you see this, grab it and pair it with your summer grilling. I'd love another bottle of this to pair with any number of grilled chicken, pork, or beef, and especially the ribs I have smoking as I type up this review.