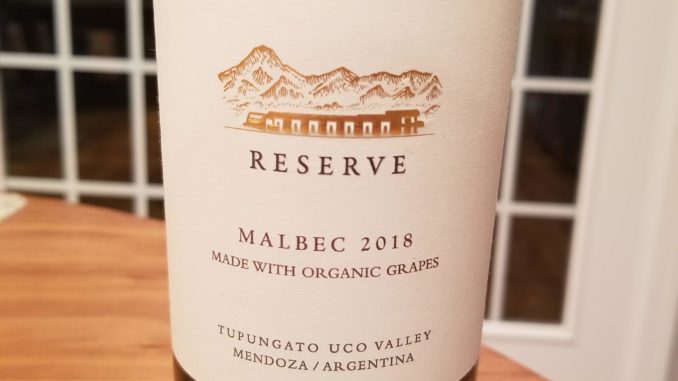 Variety: 85% Malbec; 5% Cabernet Sauvignon; 5% Merlot; 5% Syrah
Region: Mendoza, Argentina
Cost: $18 (SRP)
Winemaker's Notes: Deep violet colour. Ground-mushrooms and berries aromas. Medium body, soft and silky tannins and a flavorful finish. Pair with barbecued beef ribs and grilled red meat.
My Review: Something about crappy weather, hearty meals, and Malbec just seem to go together. That's why I combined them, popping open the 2018 Domaine Bousquet Reserve Malbec on a crappy, cold, rainy day and pairing it with beef stew.
In the glass the wine was a deep red colour, with hints of purple. On the nose I picked up aromas of dark, dry fruit with some spices and cassis. I was impressed that the wine didn't show hot even at first blush, given that it's 14.5% alc/volume.
In the mouth the wine showed dark, fruity notes, with raspberry, currants, and cassis showing the most. While the front and middle of the wine were fairly juicy, it managed to finish dry, making it a nice counter to the beef stew my wife and I had cooked all day in the slow cooker to pair with it.
At $18, the 2018 Domaine Bousquet Reserve Malbec is a good value. While Malbec may be the dominant grape (as it has to be to bear the name), the other grapes used to blend up this vintage do a good job of providing some nuance – I credit the Syrah for the middle juiciness and the Merlot and Cabernet for that dryer finish.
As holiday season crashes down on us (can you see how excited I am?), a versatile wine is always a must-have, and the 2018 Domaine Bousquet Reserve Malbec certainly fits the bill. One worth grabbing a few bottles of for that next party.
Editor's Note: I received this wine as a free sample for review.