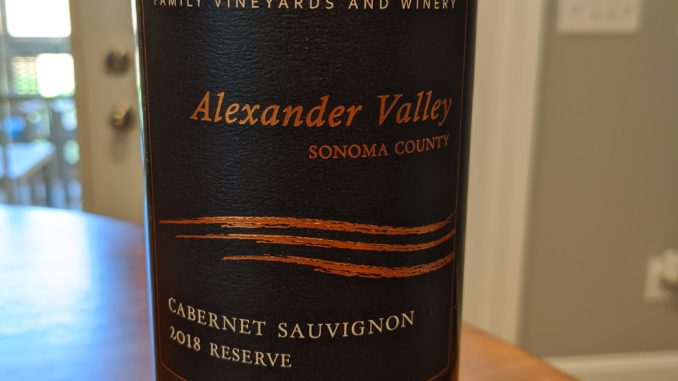 Variety: Cabernet Sauvignon
Region: Alexander Valley & Sonoma County, CA
Cost: $25 (SRP)
Winemaker's Notes: Our Alexander Valley Cabernet has concentrated blackberry and cedar notes. This medium-bodied wine showcases dark fruit and smooth textures that lead into a beautiful finish.

Enjoy our Reserve Cabernet Sauvignon with braised short ribs.
My Review: My wife and I have been doing our best to visit our local shops and restaurants during this Covid-19 lockdown, and one of our favorites is a local butcher that we can order online from and do curbside pickup. Which is how I found myself this past Friday with a pair of steaks, some mushroom risotto, and an open bottle of wine.
Not bad for a Friday.
So in the glass, the 2018 River Road Reserve Cabernet Sauvignon was a dark purple. On the nose I picked up aromas blackberry and cedar, while in the mouth the wine was smooth, with dark fruit.
Paired with perfectly (if I say so myself) steaks and mushroom risotto it was fantastic–the smooth, borderline non-existent tannins complimenting the tender, juicy steak.
I really liked this wine, and I think some tender short ribs with herbs and mushrooms would be a great pairing, but really any red meats, be they grilled, braised, or smoked, will do this wine justice.
Editor's Note: I received this wine as a free sample for review.