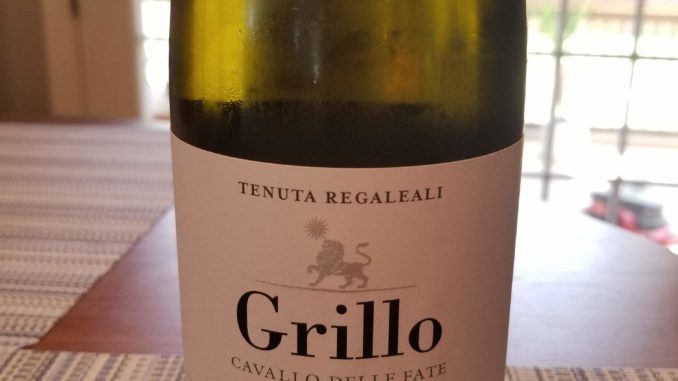 Variety: 100% Grillo
Region: Sicilia, Italy
Cost: $20 (SRP)
Winemaker's Notes: Pale straw yellow in color, Tasca d'Almerita Grillo offers a broad range of bright fruit aromas from crisp citrus to white peach, tangy apricots and exotic tropical fruit like pineapple. An elegant backbone of minerality carries the wine across the palate and leads into a balanced finish. Pair this wine with fritti misti, seafood pasta, cous cous, tuna, and poultry or veal.
My Review: Wow, been a while since I've been able to make myself sit down and write anything that wasn't for work. I know lots of digital ink has been spilled with what's going on in the world as I write this, and while I won't spend much more time talking about it here, I will say go and support your local wine shops and buy some wine; buy some from your favorite vineyard; just buy some wine really….I think we've all earned another glass.
Ok….on to this wine.
I was excited to open this wine for two different reasons. First, it's an unoaked white (#StainlessSteel), so my wife would be open to trying it with me. Second, it was a Grillo, which I don't get a chance to sip on often, but always seem to enjoy when I do (spoiler: I enjoyed this one).
In the glass the wine a light straw color with slashes of green. On the nose I picked up aromas of white flowers and peaches. In the mouth the wine was crisp & refreshing, with flavors of white peach and apricot, with just a touch of mineral and saline on the finish that I found very refreshing.
My wife and I paired the wine with some charcuterie after taking the dog on a hike and braving the grocery store (we really needed some wine after that), but I think pairing it with some oysters or a seafood pasta would be ideal—something to really play up the mineral and salinity at the finish of the wine.
For $20 this is easily a wine I could see myself buying again and again, especially as we head into the warmer months; it's a great value and one I'd definitely give an enthusiastic recommendation for.
Editor's Note: I received this wine as a free sample for review.