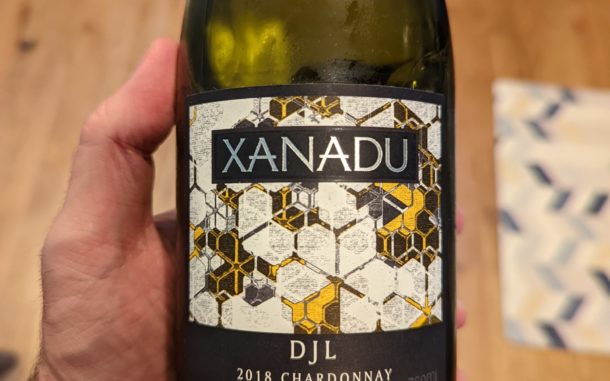 Variety: 100% Chardonnay
Region: Margaret River, Australia
Cost: $15
My Review: It's been well established by this point that Chardonnay is a bit of a roll of the dice in my house. My wife doesn't like Chardonnay that's been aged in oak (or really any white wines that have spent time in oak barrels), so any Chardonnay I pick that doesn't expressly say "stainless steel" is probably something I'm going to be enjoying by myself.
I say all that because the 2018 Xanadu "DJL" Chardonnay did spend time in oak; I'm not sure how much, but if I had to guess I'd say less than a year. But, whereas that oak flavor can be overpowering in many Chardonnay's (part of the reason for my wife's distaste of oaked Chardonnay), here it added complexity and nuance to the wine. In short, it was used the way you're supposed to use oak–to improve the wine, not as a crutch to mask inferior wine or winemaking.
In the glass, the 2018 Xanadu "DJL" Chardonnay was a straw yellow color with green undertones that showed through when held up to the light. Aromas of peaches, white flowers, citrus, and green apple were the most prominent notes, with subtle hints of oak showing through as the wine warmed and opened, adding roundness to the crisp notes without masking them or overwhelming them with buttery aromas.
On the palate, the wine was bright with great acidity. Flavors of green apple and lime were balanced by subtle oak notes, all of which gave way to notes of stone fruit. I appreciated that while the oak was certainly there, it wasn't being used as a crutch or to overwhelm the wine with buttery flavors–it was subtle and created balance.
I sipped on this wine by itself, but I think pairing it with herb roasted chicken or pork would be an amazing combination. I picked up the wine during a recent Last Bottle marathon sale, and while I would happily by it again at $15, it's easily worth twice that.
This is definitely one to grab, and it's a winery and region I look forward to exploring more, especially if this is the kind of wine I have to look forward to.