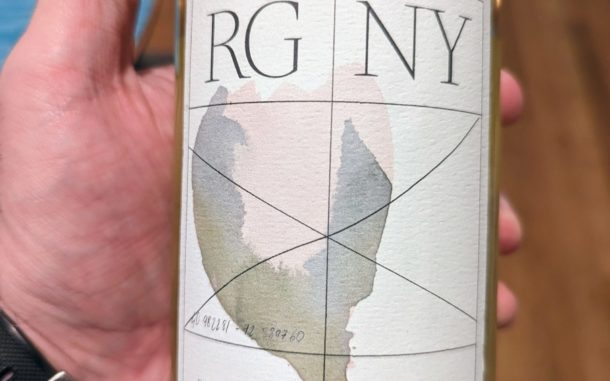 Variety: 100% Viognier
Region: North Fork of Long Island, NY – USA
Cost: $35 (SRP)
Winemaker's Notes: A very rich and aromatic complexity with exciting aromas of guava, almonds, and mango. Round with a lingering finish.
My Review: Having spent a lot of time in Virginia, Viognier is more than a little familiar to me. Which is why I was excited to open up this bottle from RG|NY–I always love to see how a grape grows in different regions. I certainly wasn't expecting it to be the same as what I'm used to from Virginia, but I was curious to see how it was going to be different.
In the glass the wine was a dark straw yellow color. On the nose I got aromas of citrus, apricot, guava, pineapple, and a touch of lime. Compared to what I'm used to, it was more tropical than floral (not a complaint, just an observation).
In the mouth the notes of pineapple and guava carried through, with a little almond nuttiness getting added to the fray. Still, more overt tropical notes as opposed to soft floral notes. Honestly, I found it a nice change of pace.
My wife and I didn't open this with any food, but I think some pork in a spicy honey sauce and definitely anything chicken or pork from your local Chinese takeout spot, would be a good pairing; anything that would be well served by adding in some bright tropical flavors.
Disclaimer: I received this wine as a free sample for review.