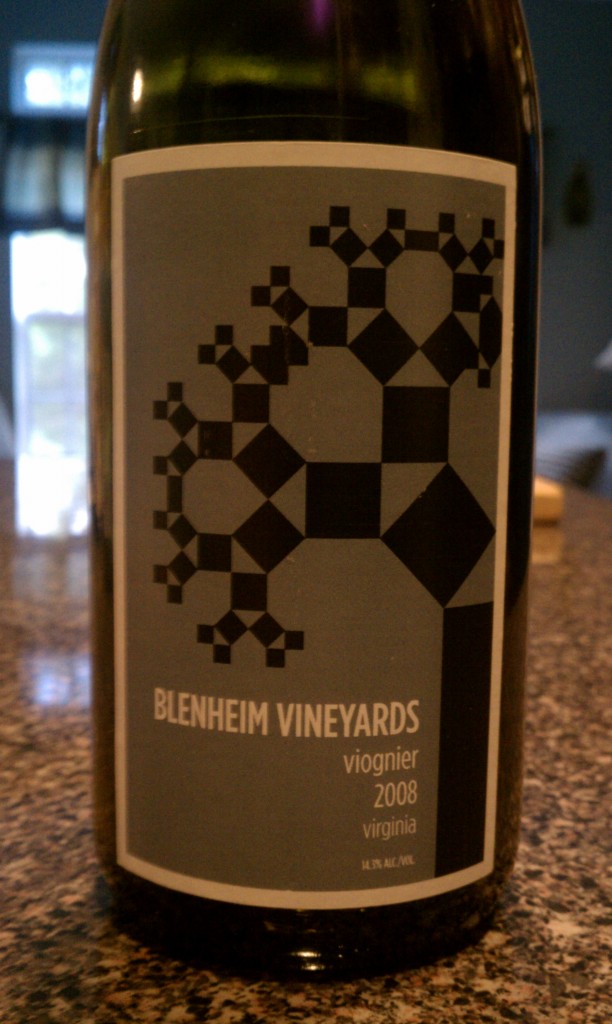 Varietal: Viognier
Region: Virginia – USA
Cost: $19
A nose of smoky papaya gives way to concentrated apple and white pepper tones with a lingering lemon finish. Â Pairs well with seafood, grilled chicken, and spiced food.
Recommendations: The deeper we've gotten into summer, the more I've been drinking wines like Viognier. Â Fortunately, living in Virginia, it's easy to come by as we grow it quite well. Â Back in February, at the Virginia Wine Expo, I was first introduced to Blenheim Vineyards, and instantly fell in love with both their Cabernet Franc and their Viognier. Â In March when my wife and I spent a weekend traipsing around Virginia wine country, we made a point of stopping in at Blenheim as we had not bought nearly enough of their wine, specifically their Viognier, to last us through the summer.
This past weekend while enjoying a dinner of grilled scallops and rockfish flounder, my wife and I opened a bottle of the Blenheim Viognier we had chilling in our fridge. Â I had forgotten that the Blenheim Viognier is a bit heavier than some other Viognier that I've had, but that's not a bad thing. Â Blenheim's Vigonier is a bit more robust, holding up well to the seasoning that my wife and I applied to our dinner, while still showing the floral aromas that I associate with Viognier.
The lemon on the finish was definitely a nice compliment to our dinner, and overall the wine paired well with the meal. Â What I like about Viognier is that even by itself it's enjoyable, which for a lighter wine I'm sometimes hit or miss on. Â The Blenheim Viognier is no exception to this rule.
The only downside to the Blenheim Viognier is that you can't get it in your local store. Â Fortunately, Blenheim does have an only store, featured here. Â While we're still in summer I definitely recommend giving their Viognier a try, and if you're ever in the Charlottesville, Virginia region they're one worth stopping in to visit.