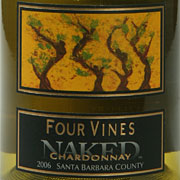 Varietal: Chardonnay
Region: California – USA
Cost: $14
A steel  Chardonnay that has never touched oak, this white is crisp with flavors of apple, white peach, and pear.  Pairs well with chicken, seafood, and seasoned pork.
Recommendations: My wife and I picked up this bottle on the recommendation of my local wine store expert (John Witherspoon at the Wine Cellar in Richmond, Virginia is great if you're in the area).  My wife is not a fan of oaked Chardonnay, and he recommended this as a great steel Chardonnay for a great price.  Trusting his judgement, we took it home and paired it with a meal of pork tenderloin.
Wines like this are why you should always trust your wine store guy.  This crisp, slightly acidic white was a perfect compliment to a pork tenderloin with a lot of seasoning and flavor.  The lightness of the wine did an excellent job of cutting the seasoning on the meat so that it wasn't overwhelming.
I'll be the first to admit that I had never heard of Four Vines before, but now that I've tried their Chardonnay I'm very interested to see what else they have.  If you don't like Chardonnay that's been in oak, I highly recommend giving the Four Vines "Naked" Chardonnay a try.