Every month Frank Morgan of Drink What YOU Like sits down with a winemaker at a Virginia vineyard and chats about their wines while those of us at home follow along, sipping on the wines and sharing our thoughts about them on Twitter while sending in our own questions for Frank to ask.
For the month of May Frank traveled out to Rosemont Vineyards and sat down with Justin Rose to chat and enjoy some wine. You can check out the entire interview (it's about an hour long) online at UStream, and keep reading below to check out my thoughts on the wines themselves.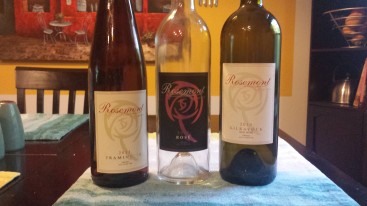 2013 Rosemont Traminette ($16)
A blend of 88% Traminette and 12% Vidal Blanc, this wine showed orange and tropical fruit on the nose. In the mouth the wine was bright with lemon, a touch of mineral, and just a hint of sweetness on the finish thanks to .5% RS. The 2013 Traminette showed lots of aromatics and is definitely a nice summer sipper. My wife and I paired this with some stir fry the next day and it was a great pairing, the bit of sweetness balancing out the heat of the food, and definitely a pairing I would recommend in the future.
2013 Rose' ($17)
Made from 100% Chambourcin with a nose full of strawberry that carried over onto the palate and was mixed in with some eucalyptus and herbaceous notes along with a hint of pepper. Very dry and crisp with a light orange/pink color, it's a great value, especially for the hot season we're moving into. I personally wanted to try it with something from the grill, preferably with some BBQ.
2010 Kilvarock ($35)
A Meritage-style blend made up of 46% Merlot, 27% Cabernet Franc, 23% Petit Verdot, 4% Cabernet Sauvignon, with a nose of dark cherry, tobacco, cedar, and cocoa. In the mouth the wine showed herbs, smoke, a meaty/bacon note that I was quite fond of, and just a bit of blueberry as it opened up. The wine managed to be both big and smooth at once, and I'd have loved to have put this with some perfectly cooked red meat.
My wife and I actually finished this wine the night of the tasting, and I'll admit that I was already debating buying another bottle – it's absolutely worth the price and shows off what a great year 2010 in Virginia really was.
Next month the Virginia Wine Chat will find Frank at Sunset Hills Vineyard up in Loudon County. The wine chat is June 26th, so be sure to follow along on Twitter using the hashtag #vawinechat. We're looking forward to that one and whether or not you get the wines, it should be one worth watching.
Thanks to Justin Rose at Rosemont and Frank Morgan for another great tasting.