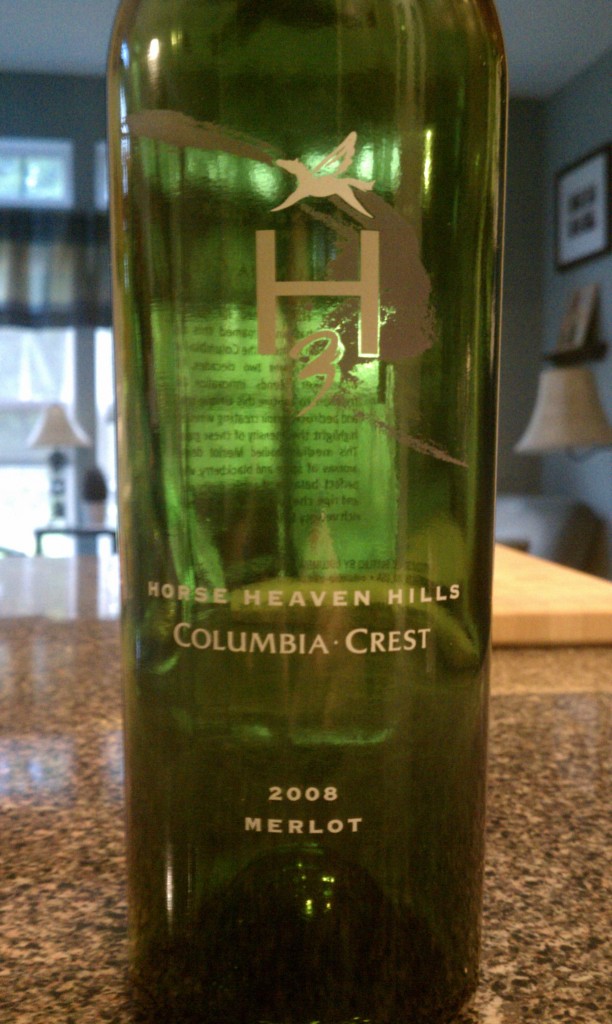 Varietal: 92% Merlot; 5% Cabernet Sauvignon; 3% Cabernet Franc; "kiss" of Syrah
Region: Washington – USA
Cost: $13
Winemaker's Notes: Entices the nose with aromas of blueberry, cassis, and hints of tobacco and spice aromas. The silky and sweet mid-palate introduces slight dusty, earthy, and rich berry notes with cumulate in the long and concentrated finish.
My Reviews: During a grocery run to Costco (a brand new one no less, stocked like I've never seen), my wife's eye was caught by the label of the 2008 Horse Heaven Hills Merlot and since I'm always one to try new things, I encouraged her to add it to our cart. While putting away said groceries we threw a pizza in the oven and opened up the bottle we had just purchased since it was a Thursday night and such things call for a glass of wine.
In the glass the wine was a deep, opaque red with slashes of purple throughout. On the nose I got some of the tobacco and spice, but mostly just a generic berry aroma. In the mouth the wine was dusty, a trait that I'm finding more and more appealing as I come across wines that exhibit it. Notes of cherry on the finish, along with a slight tartness were a good finish from the earthiness of the front of the wine, and all together made it a good pairing for a pizza with basil and tomatoes for a topping.
For a wine that Wine Spectator gave 90 points (yes, I avoid those scores like the plague, but I'm trying to give some context for people that care about such things), the fact that it can still be had for around $13 makes this a great value wine, and a Merlot that I would definitely drink again. If you can't find it near you, you can follow this link and have it shipped to you.