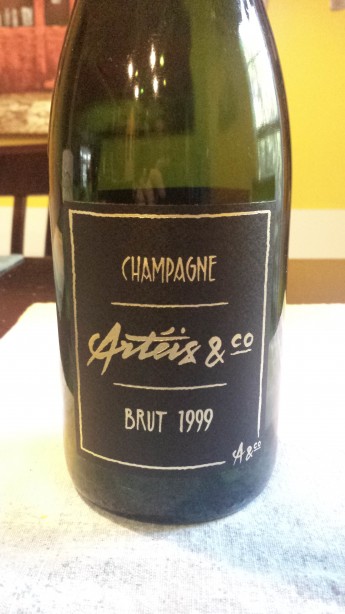 Varietal: Â 40% Chardonnay Chanilly (Grand Cru); 40% Chardonnay Vertus (Premier Cru); 10% Pinot Noir Vertus (Premier Cru); 10% Meunier Congy
Region: Â Champagne, France
Cost: Â $49 (SRP)
Winemaker's Notes: Â A bright gold color with green nuances expressing the aging and richness of the Chardonnay; fine and persistant mousse. A complex and elegant nose dominated by the scents of butter, brioche, and fine minerality; the blend has aromatic power that reflects the lengthy aging that enabled the Champagne to develop itself; despite its age, the freshness of the wine is surprisingly present. Elegant and powerful on the palate with silky texture; the wine structure offers balanced touches of honey, ripened and dried fruits and developing into pleasurable toastiness.
Pair with white meat (honeyed caesar salad), langoustines (steamed with butter sauce), tuna carpaccio (with crushed cashew nuts and lemony sauced arugula and parmesan).
My Review: We're big fans of bubbles in this house. Whether we're celebrating something or just enjoying a glass of something sparkly with our food (or without as the case may be), we're always on the lookout for quality sparkling wines.
Admittedly we don't drink a lot of actual Champagne. Some of this has to do with Virginia producing some great sparkling wines that we're partial to, along with some we've found from Spain and South America that we like. The other reason has to do with cost. It's not that you can't find affordable Champagne, but for quality wine you have to pay a quality price.
With all that in mind, I was excited when the 1999 Brut Champagne from Arteis & Co. showed up at my house. It'd been a while since I'd had actual Champagne, especially one as old as this – I graduated high school this year to put it in perspective.
In the glass the wine showed good colors of gold, and on the nose I mostly detected brioche. In the mouth the wine showed plenty of large bubbles, almost too many for my wife's taste to be honest, and flavors of dried fruit, yeast, and toast. Paired with a dinner of small food that included gnocchi and a brie dip with sun dried tomatos, the wine was a good pairing, and certainly enjoyable to drink.
I have a hard time overly recommending this wine. It was certainly good, and I certainly enjoyed it…I'm just not sure I $50 enjoyed it. To be fair, this is a fairly small production wine (less than 5,000 bottles were produced), so I don't know the economics that went into the price, but I have a hard time saying I'd recommend you go out and buy it for $50 as I enjoyed the wine, but I don't know that it blew my socks off.
Fortunately (or perhaps not as the case may be), the wine is only available in select markets at the moment for on-premesis consumptin, so you're not likely to find it in your local wine market. I'm not sure what restaurant price will be, but given the SRP I can only imagine.
I'd probably be willing to splurge on it by the glass for a special occassion, but I don't know that I can see myself springing for a whole bottle.
Editor's Note: I received this wine as a free sample for review.