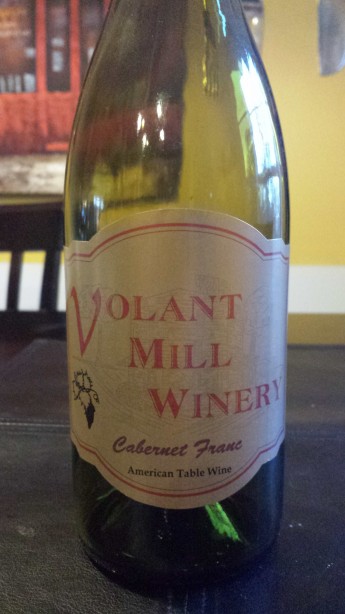 Varietal:  Cabernet Franc
Region:  Pennsylvania – USA
Cost:  $18.75
Winemaker's Notes:  Medium bodied with warm spicy undertones and a black cherry profile.
My Review:  I get wine from lots of places – my local stores, media samples from different PR companies and wineries, and of course from family. Until recently my father was spending a lot of time working in Pennsylvania as part of his government job, and while there, he came across Volant Mill Winery, where he picked up some wine and brought home a bottle for me to check out.
I'll have to admit that when I first saw the wine, before I even knew the winery, I cringed. I haven't really had any experience with wine in Pennsylvania, but my experiences with wines from outside the big 5 of the US (California, Oregon, Washington, New York, Virginia) have been real hit or miss, and looking up where Volant is located (Northwest of Pittsburgh, east of Youngstown near the Pennsylvania/Ohio border) didn't help. I did, however, relax when I saw that it was a Cabernet Franc and not a sweeter wine or fruit based varietal.
In the glass the wine was a basic dark red color, and on the nose I picked up some cherry. In the mouth the flavors of cherry continued and while I didn't really get much of the spice that the winemaker claims, I also won't say that the wine was a complete one-note either.
I paired the wine with a little cheese and crackers while watching some playoff football, and I have to say that the wine really wasn't that memorable, but that's not a terrible thing, since it wasn't memorable for being particularly bad or good. It just was.
I'm not going to sit here and say that this wine is something amazing and that you should run up to Pennsylvania and buy a case of it. I'm also not going to say that if there happens to be a bottle of this sitting on your wine rack that you should pour it right down the drain. I am going to say that while the Cabernet Franc from Volant Mill Winery didn't blow me away, and there are certainly Cab Francs that I prefer above it, and can get for less (though I won't judge too hard since I don't know what kind of production they have up there and understand supply and demand living in Virginia), it did manage to exceed my admittedly low expectations and I'll admit that were I to end up at a wine event where they were pouring, I wouldn't just move on to the next booth.