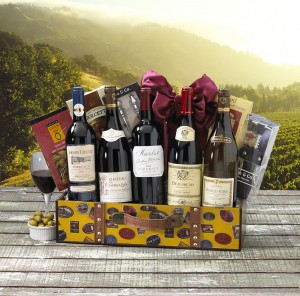 There are a lot of different ways to share your love of wine with the special people in your life, such as dinners, wine of the month clubs, or trips to vineyards.  However, one way to show your family in friends that you appreciate wine, and that you know they do too, is to send them a wine gift basket.
A Great Alternative
While a fan of wine of the month clubs, a wine gift basket serves as a nice alternative for those looking for a wine gift without a recurring monthly cost.  Also, many gift baskets feature food such as chocolate or cheese that has been specially selected to pair with the wine in the basket, great for the recipient as it gives them to enjoy with the wine that they know will pair well with it.
A Nice Introduction
For your friends that are just getting into wine, there are many inexpensive options out there to introduce them to new wines while avoiding either you or them having to invest heavily in a trip to the wine store, a vineyard, or signing up for the more elaborate wine of the month clubs, which can be very pricey.
Something for Everybody
While there are certainly wine gift baskets that reach a price tag of more than $150, there are just as many quality baskets that can be had for under $40.  No matter what your price range is for gift giving, you can find a wine gift basket to suit your pocketbook.
Always in Season
Wine is always in season, and is a great gift for any season.  Birthday, Christmas, Valentine's day, Mother's day – it's all a great reason to give the gift of wine.  If the person you're giving it too appreciates wine, it won't really matter what the holiday is, of even if there is a holiday.
No matter your reason for sending it, a wine gift basket is a great way to let the people in your life know that you appreciate your shared love of wine.  There are plenty of great places to get a basket to fit your budget, so why not go show somebody that you're thinking of them?