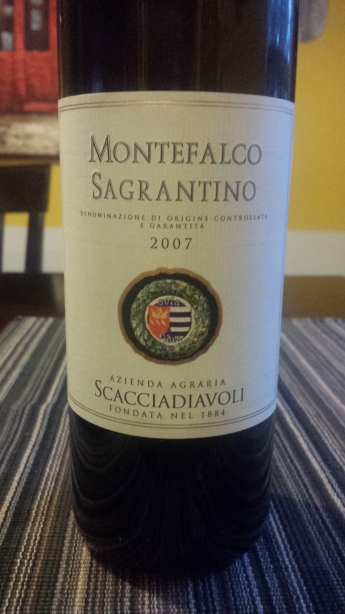 Variety: Â 100% Sagrantino
Region: Â Umbria – Italy
Cost: Â $40-$45 (SRP)
Winemaker's Notes: Â Intense color with garnet hues. The aroma is complex, elegant, with intense fruit and notes of small red fruits, red citrus, ripe plums, spice, and hints of herbs and leather. The flavor is immense, fatty, tannic, but balanced, with fresh acidity; long fruity and spicy finish. Pairs perfect with roasted meat, grilled meat, and game. Pairs well also with aged cheeses, both spicy and herbal.
My Review: Â I'll admit to having been excited when this wine showed up. Not only has Italy always had a soft-spot in my heart when it comes to wine, but it was a chance for me to a grape that was new to me – Sagrantino.
I'll admit to not knowing much about the grape, but a little research revealed that while originally used to make dessert wines, since the 70s it's been used to make dry red wines more in line for consuming with dinner than afterwards. There, your history lesson for the day – now on to this particular wine.
In the glass the was a dark red color, and on the nose I picked up ripe plum and leather. In the mouth the wine was very dry, with dark red fruit and plenty of tannins, but with a clean finish. My wife and I paired the wine with beef that had been roasting with potatoes, carrots, and small onions all day long and I have to say that the dryness of the wine was a great compliment to the juiciness of the meal.
That being said, this wine is, at least in my opinion, definitely a food wine, and not something you'd just open up to sip on after a long day (the SRP not withstanding). It manages to be balanced with all those dark notes, and I can't imagine pairing this with anything other than a bold meal – roasts, grilled meats, and aged cheeses; something to hold up to the wine without being overwhelmed by it.
As for whether or not this is a good value – my wife and I went back and forth on this. While for different individuals ~$40 is or isn't a lot of money to spend on a single bottle, it really all comes down to whether or not the wine is actually worth it, regardless of your ability to actually spend that much.
For me, the 2007Â Scacciadiavoli Sagrantino di Montefalco is borderline worth the asking price. If you can get it on the high end of $30 to low-end of $40 it's worth it, but I don't know that I'd pay closer to $50 for it – it's certainly a good wine, and one I think you'll enjoy, but I don't know that it impressed me enough to spend more than $40 on it. Maybe that's just me.
Editor's Note: I received this wine as a free sample for review.