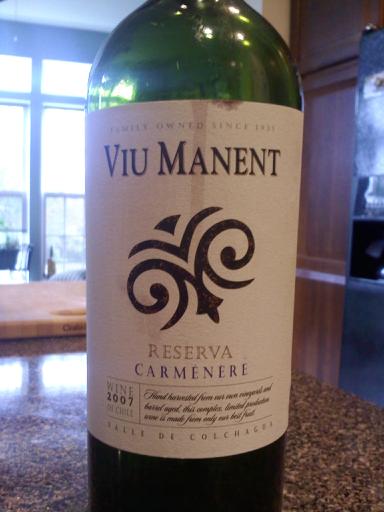 Varietal: Carmenere
Region: Chile
Cost: $14
Deep ruby red in color with black cherry, plum, and sweet herbs. Â Mocha, dates, dark chocolate, leather on the palate with rounded tannins. Â Pair with lamb chops, green peppers.
Recommendations: About three weeks ago I participated in an online blogger tasting hosted by Wines of Chile. Â They sent us eight bottles to sample during while giving us access to the representatives from each vineyard via webcams and a live chat forum.
My wife and I sampled all of the wines, and while there certainly wasn't a single one we didn't enjoy, the Viu Manent was far and away our favorite. Â A lot of pepper on the nose, and by pepper I mean green pepper, where different, but enjoyable, and went well with the leather and rounded tannins on the palate, especially as the wine had time to open up.
While we didn't really pair it with anything beyond something to much on (cheese and crackers), the thought of pairing this with lamb chops or stuffed green peppers is enticing enough to make me want to try my hand at making them.
Whether you're already a fan of Carmenere or are just getting into it, I would highly recommend the Viu Manent, especially at this price point. Â  It's a great wine with a great nose and lots of great flavors.