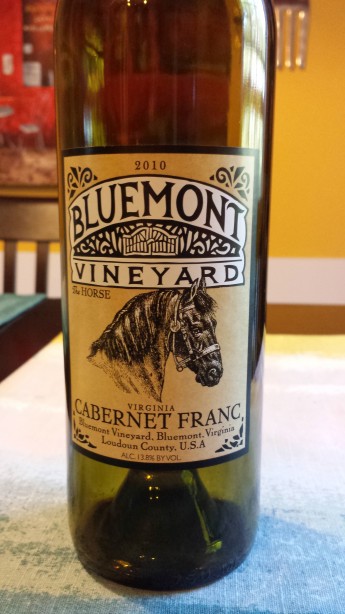 Varietal: Â 95% Cabernet Franc; 5% Petit Verdot
Region:Â  Shenandoah Valley, VA – USA
Cost: Â $29
My Review:Â  In February I attended the annual presentation of the Virginia Governor's Cup for Wine. Part of this presentation includes a tasting of the various wines that had one Gold Medal's and were eligible to be awarded the Governor's Cup. While I was familiar with most of the vineyards, Bluemont Vineyards was one that I was unfamiliar with and made a point of stopping to see what they were pouring, including their Gold Medal winning 2010 Cabernet Franc.
While tasting the wines I got to chatting with Kevin Rupy, one of the owners of Bluemont, and made a mental note to include Bluemont Vineyards in any trips to the number of vineyards in the Northern Virginia area that my wife and I had been remiss on not visiting for far too long. In March we finally got the chance to spend some time up in DC's wine country, and made a point of stopping in at Bluemont, tasting through their great selection of wines and enjoying their amazing view (seriously, it's something to behold). We did, of course, bring home some bottles to enjoy, including the award winning 2010 "The Horse" Cabernet Franc, which we recently opened while enjoying the recent bout of cool temperatures here in Virginia.
The wine showed a great blend of fruit, earth, and oak, with neither being overwhelming either the nose of the palate. Bright cherry notes are tempered by a smooth finish courtesy of the oak and earth notes, which are themselves balanced by those bright notes that keep the wine from becoming too robust. This helps to make the wine eminently sippable, while also making it versatile for pairing with food.
Here in Virginia we produce a lot of Cabernet Franc, and because of that it can be a bit hard for a single bottle to stand out at times amid the crowd. The 2010 Bluemont Cabernet Franc did just that. This wine deserved the gold medal that it was awarded this year, and is absolutely worth your time. It's a great representation not only of the grape, but of what Virginia is capable of doing with it, as well as what an amazing year 2010 was here in the state.
Also, go visit Bluemont. Especially as we move into the Fall, their deck that overlooks DC (on a clear day you can see the Washington Monument) will provide amazing views and I can think of worse ways to spend an afternoon than with friends and family on their deck sipping on their wines and sharing a picnic lunch.