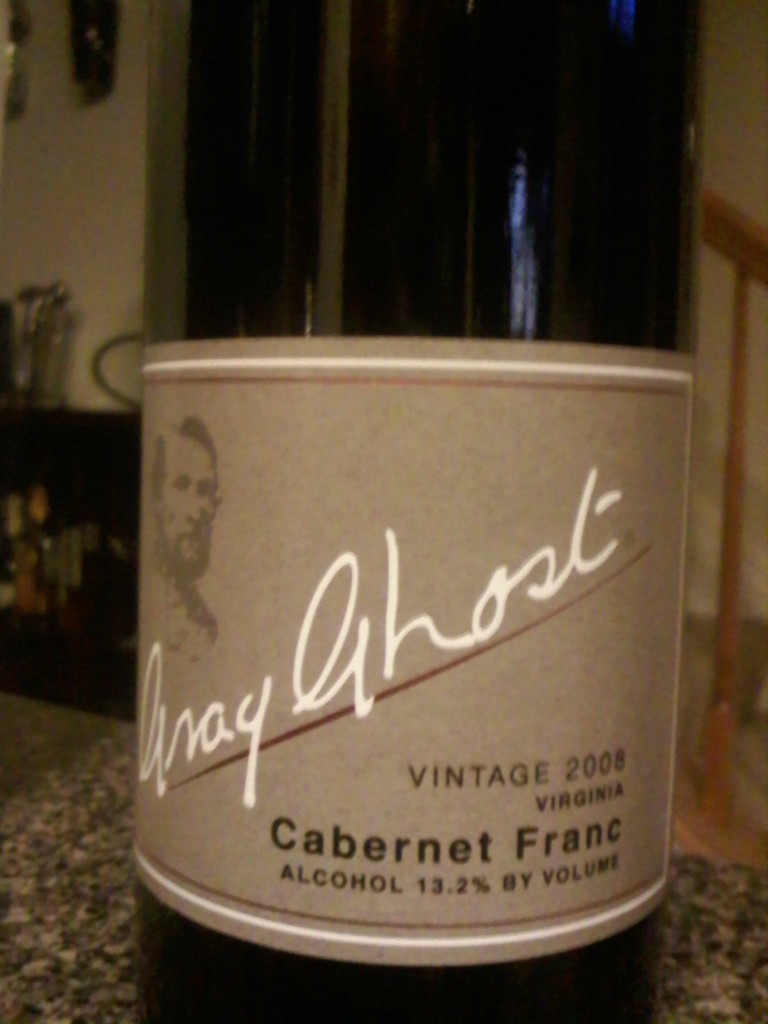 Varietal: Cabernet Franc
Region: Virginia – USA
Cost: $22
100% Cabernet Franc fermented in small lots and aged in French oak. Â Bright flavors of cherry and blackberry with the typical spicy pepper finish. Â Pair with grilled foods such as pork as well as pasta and tomato sauce.
Recommendations: Living in Virginia, we're lucky enough to get a lot of quality Cabernet Franc, and this one from Gray Ghost is no exception. Â I was very pleasantly surprised by how light this particular Cabernet Franc was, as it paired very well with the grilled boneless pork chops and roasted red potatoes that my wife and I paired it with.
The usual pepper finish was there, but much more subtle than many other Cabernet Francs, and there was much more bright fruit flavors on the palate than I was accustomed to. Â Neither of these things is a bad thing. Â I like this Cabernet Franc because I find that those that are heavy on the pepper finish are great to pair with food, but can be a bit rough to drink by themselves. Â That's not the case with this Cabernet from Gray Ghost. Â This is definitely a wine that can be enjoyed well after the food is gone, or without any to begin with.
The only real complaint I have about this wine is that they've only produced 40 cases this year. Â Certainly one worth trying whether you're already a fan of Cabernet Franc or just starting to get into it.