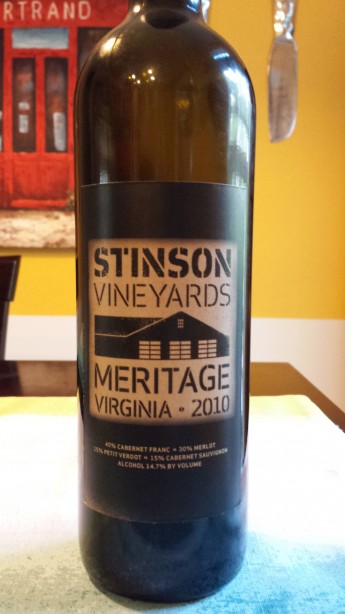 Varietal:  40% Cabernet Franc; 30% Merlot; 15% Cabernet Sauvignon; 15% Petit Verdot
Region:  Crozet, VA – USA
Cost:  $32 (SRP)
Winemaker's Notes:  A velvety smooth, complex blend of our finest sourced grapes. Deep tannins and spice blend with subtle black cherry. With good structure and balance, this wine has excellent cellaring potential.
My Review:  2010 was a great year for red wines in Virginia. The conditions were great, the harvests were good, and the wines that are being produced from those grapes are winning awards not just here in the state, but across the country and around the world. The 2010 Stinson Vineyards Meritage definitely falls into the category of a great 2010 Virginia wine.
In the glass the wine was a deep garnet red and on the nose I picked up spice. In the mouth the wine was smooth, with soft black cherry and dark chocolate blending seamlessly. The wine was big, but well balanced so that while I paired it with a steak, and it was a great pairing, let me tell you, it certainly didn't need something that big and bold to pair it with.
Stinson Vineyards is one of the younger vineyards here in Virginia, but they're already producing some great wines and if their 2010 Meritage is any indication of what we can expect in the future, grapes willing, we're all in for something of a treat.
Editor's Note: This wine was sent to me as a free sample for review, which had no impact on my opinion of the wine.