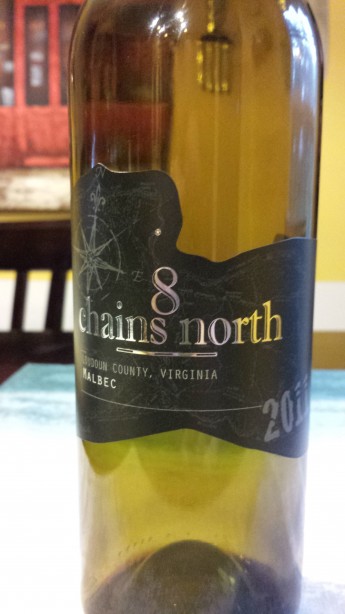 Varietal: Â Malbec
Region: Â Loudon County, Virginia – USA
Cost: Â $22
Winemaker's Notes: Â The Malbec block of our Furnace Mountain Vineyard is the consistent star, year after year. A rich, jammy and deep red, with big plum overtones, this wine is the Ringo of "that" region!
My Review:Â  Earlier this year my wife and I took a long overdue trip to Loudon County, also known as DC's Wine Country, to visit some wineries. We had a great time, got to meet some great people, and came back with some spectacular wines. One of our early stops was 8 Chains North, which impressed us with their selection of wines, most notably the 2011 Malbec.
In the glass the wine was a nice dark color and on the nose the wine had a nice combination of dark fruit and herb notes that I found appealing, especially since they carried over into the mouth. The wine was medium-bodied with a nice smooth finish. Paired with a flatbread pizza that my wife and I had for dinner the wine was a good match, and it was great to sip on both before and after we'd eaten.
There aren't a ton of wineries in Virginia that are producing Malbec, and even fewer that are producing enough to bottle it on its own. That being said, if this is indicative of what can be achieved with the grape in the state I'd like to see more as this is definitely one that I'd like to pick up again. Definitely worth trying if you can get your hands on a bottle.