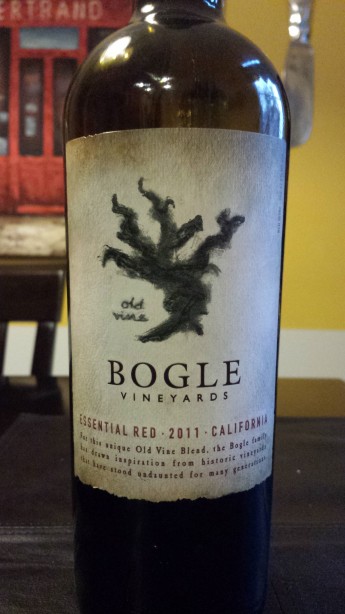 Varietal:  Zinfandel; Syrah; Cabernet Sauvignon; Petite Sirah
Region:  California – USA
Cost:  $11 (SRP)
Winemaker's Notes:   A compelling blend of California's finest plantings of Old Vine Zinfandel, Syrah, Cabernet Sauvignon and Petite Sirah, this wine surpasses all expectation for pure enjoyment and approachability. Calling on their years of experience and tradition, Bogle winemakers have delivered a wine with RICH, enticing layers of complexity, starting with that first irresistible sip. RIPE fruit, intense with flavors of boysenberries and sweet cherries. LUSCIOUS vanilla, caressing the palate from barrel aging in American and French oak. JUICY and silky throughout, with a finish that lingers of black licorice and spicy pipe tobacco.
My Review:  Not too long ago I was able to try the 2010 Bogle Vineyards Essential Red, so getting to try the new vintage so close to the previous allowed me to better look for any differences between the two that could cause me to recommend  one over the  other should have you have the opportunity to buy either vintage.
To be honest, there wasn't any real noticable difference to me, and that's not a bad thing. My previous review spoke well of the 2010 vintage, and they've clearly done a great job of creating consistency, something that I view as important at this price point as many people want the same wine every time they buy it, regardless of what year it is.
I did pick up a bit more pipe tobacco in the 2011 vintage as opposed to the previous one, but it also paired well with pizza while watching football on a Monday night (go Niners!), and it continues to be a great value buy that certainly drinks better than the $11 that they're asking for it.
Editor's Note: I received this wine as a free sample for review.