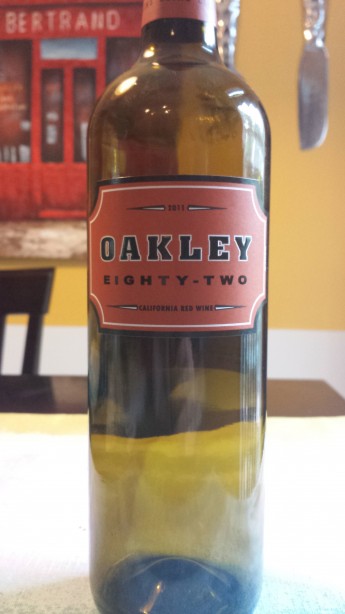 Varietal: Â 56% Syrah; 15% Petite Sirah; 13% Barbera; 5% Cabernet Franc
Region: Â California – USA
Cost: Â $11 (SRP)
Winemaker's Notes:Â  Bright but full-bodied, Oakley 82 Red combines jammy boysenberry with mild pepper flavors. Luscious fruit is complemented by smooth tannins that ensure the flavors will age well into the future. This easy-drinking wine pairs well with BBQ ribs, hamburgers, or pizza.
My Review: Â Not that long ago I wrote about the 2010 Oakley Eighty-Two Red and shortly thereafter the 2011 vintage was released and a bottle sent to me. In the previous review I mentioned being hesitant about wines that pass the 5 grape limit and while I know they didn't listen to me specifically, it's nice to see that the newest vintage works within that limit.
In the glass the wine was a dark reddish purple, with hints of brick. On the nose the wine showed bright fruit notes, with dark cherry being the one that I was able to really single out, though there was a certain overall melange to it. In the mouth the wine was smooth with jammy notes that reminded me of biting into a handful of mixed berries – nothing in particular really jumps out, but it's luscious and fruity and not unenjoyable.
Like the 2010 release, we paired this wine with some pizza and it worked well. Unlike the previous release I didn't get any hint of sweetness at the end that I felt begged for something like pizza, burgers, or ribs to compliment or contrast, making the 2011 more enjoyable to sip on without any food.
While I appreciate that the 2011 Oakley Eighty-Two Red cut down on the number of grapes and changed the blend from the previous year, and while I did enjoy this vintage more than the previous, the 2011 still falls into the same category as the previous for me – it's a Tuesday night wine for pairing with an easy meal when you want a red wine you don't have to think too hard about. And there's nothing wrong with that.
Sure, the wine didn't blow me away, but I also didn't regret drinking it and if somebody was looking for a sub-$15 bottle of red wine to have around the house as a casual red, this would probably make it onto a list I would put together for them.
Editor's Note: I received this wine as a free sample for review.