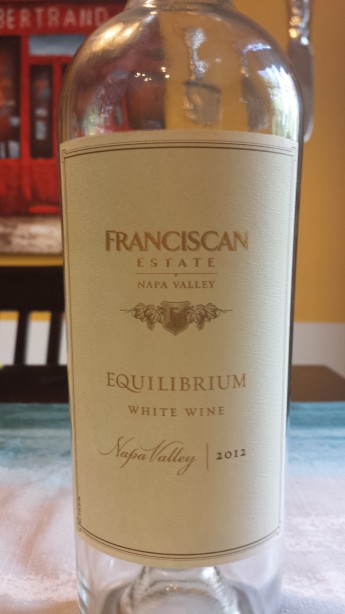 Varietal: Â 72% Sauvignon Blanc; 17% Chardonnay; 11% Muscat
Region: Â Napa Valley, California – USA
Cost:Â  $23 (SRP)
Winemaker's Notes: Â Pale straw color. A vibrant fruit-driven bouquet with highlights of bright passion fruit, guava, and white peach, accented with hints of citrus and lime blossom. Floral notes of honeysuckle and jasmine balance the vibrancy of the ripe fruit aromas. A clean, crisp opening gives way to a full, round body on the palate. Nectarine and stone fruits give the wine a fruit-forward profile finishing with floral and citrus notes. The finish lingers and leaves you wanting more. It pairs well with a range of foods, from spicy barbeque to Thai and other Asian cuisines.
My Review: Â I'll be the first to admit that when I see Muscat in a blended white wine, even as the smallest part of the blend, that I hesitate. It's not that sweeter wines don't have their place, but as a general rule I don't gravitate towards them. Fortunately, the 2012 Franciscan Estate Equilibrium White Blend does a fairly impressive job of allowing the Muscat to show without overwhelming the palate of anybody that doesn't enjoy too much sweetness in their wine.
Looking for a light white to pair with a dinner that focused around a baked brie, my wife and I opened up the bottle. In the glass the wine was a very pale color, and on the nose I picked up white peach and citrus notes, most notably lemon. In the mouth the wine started out with crisp notes but quickly rounded out. Floral and citrus notes were most prominent, but were tempered and rounded out thanks to honey notes that added a hint of sweetness without making it overly sweet.
There was just enough acidity in the wine to cut through the richness of the baked brie, with the roundness provided by the honey flavor courtesy of the Muscat adding enough body to compliment the puff pastry and cheese. All in all the pairing wasn't bad, but I'll be the first to admit that I'd be interested to try the wine with an Asian meal to see how the hint of sweetness contrasted with a spicier dish.
The wine isn't bad, but I wasn't blow away by it, especially as I didn't feel like I was getting some great value out of it – the price, while not exorbitant, didn't make me feel like I was getting a spectacular value; the wine doesn't drink at a higher value than the price.
Editor's Note: I received this wine for free as a sample for review.